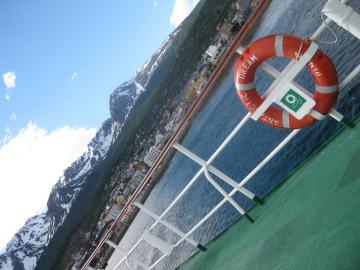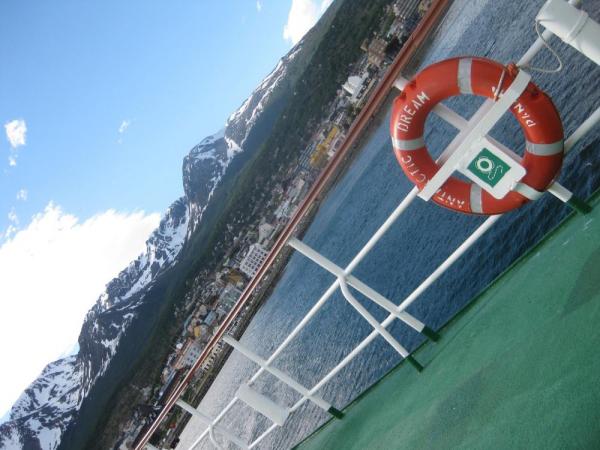 Mountains on the starboard side and ice bergs on the port and front side, this was my third day in Antarctica and my sixth day of adventure. Down the red metal stair case I went again, heading for the zodiac floating in the Pleneau Bay (also known as the iceberg graveyard). Thankful for the hands that reached out to help me into the boat, I couldn't wait to begin this water tour. We were going to see the icebergs up close!!! The brilliant blue could already be seen from the boat. If lucky, seals might be spotted as well. The wind smacked ice cold on my right cheek and as I pulled my hood over my thick flannel hat, I was grateful for all the layers of clothing I had on...2 long sleeve shirts, a vest and 2 coats, gloves and mittens, three pairs of pants and two pairs of socks with a heating pad in each waterproof boot.
Grasping the rope attached to the zodiac, I watched the landscape around me. Six more people still had to climb in before we could leave. Patience comes with ease in a place where everywhere you look a perfect photo could be captured. Having too much memory on a camera card is impossible. It's difficult to stop pressing the button and clicking away at the scenery, especially when the photo can't seem to portray the magic of the moment. Yet I already know people at home won't want to sit through a 1000 photos of ice and snow...especially since its already winter there. So I must somehow manage to shorten it.
Soon our zodiac boat was full of people dressed warmly with cameras in hand. Floating on the water, we passed ice bergs on both sides of us. Each design was uniquely made from variations of wind, snow, and ocean. Some were small, while others were over two stories high. Their shapes told stories like cumulus clouds do on a warm spring day.
My enchanted moments of viewing the massive iceberg land however were interrupted as the radio went off. ORCAS...or killer whales...had been spotted. Jamie, our guide, sped in their direction. Exhilaration filled his voice as he began to explain the rarity of this event. Normally these shy whales stay far from boats and in ten years he had never been near one on a zodiac. Tapping on the side of the boat to gain attention, we were not disappointed. A spray of sea water shot into the air as a black and white head appeared just three feet from us with a second one following. Standing to my feet, the gasps and exclamations around me spoke how I felt…so close to such a wild, HUGE animal. The show intensified as more appeared. Jamie explained there were 4-5 curious female orcas around us with one young one. How he could tell all this was a mystery to me. Swimming under our small balloon boat and flipping over to her belly, one came so near I could have reached down and touched her. Another flapped her fins as two on the other side arched out of the water, displaying their coats and ending with a small splash as their tails waved hello. I was torn between absorbing it all or attempting to take some photos. As the show continued and the whales were bobbing their heads in and out of the water...I began to shoot a few photos. This event was a first for everyone.