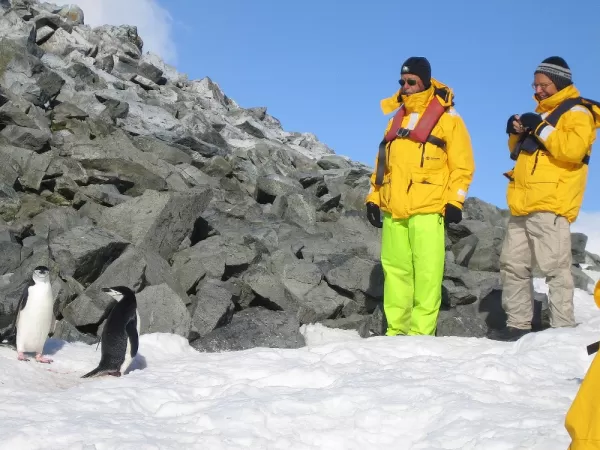 Today was one of those sublime days in Antarctica when pretty well everything was perfect. Half Moon Island between the glistening jewels of Livingston and Greenwich Islands was to be our very first landing. You could just sense that today was going to be good!
By 0700 it became a little duller; there was even a brief flurry of snow as we waited to board the Zodiacs. Had the weather broken? Had we seen the last of the suns rays? Luckily our fears were unfounded, the shower soon passed on its way, and we were left once again to see Antarctica in its full splendor.
The three hours ashore here were enjoyed by all, and thus passed by with remarkable speed. There was just so much to see! About 3,000 pairs of Chinstrap Penguins were busily incubating their eggs, also Antarctic Terns, Kelp Gulls, Blue-eyed Shags (including at least one pair with chicks) and skuas were nesting. There were also mosses and lichens, some fascinating rock formations, snow covered peaks and glaciers for the photographic backdrop.
With seven yellow kayaks lined up at waters' edge the sea kayakers assembled for a safety and dry land technique session. We looked on as the kayakers stood on shore clutching paddles and going through the motions of performing strokes that would provide them with an effective and efficient means of maneuvering in these cold waters. We marveled at their appearance, all decked out in their dry suits and life jackets. Only their brightly colored caps would provide any individuality to this uniformed group. I watched as all ten paddlers, along with their leaders, Tim and Louise, disappeared around a near bluff -- off for an adventure.
We were planning on continuing to Deception Island, but the conditions were so perfect that we made a brief deviation to head to Bailey's Point, home of 200,000 Chinstrap penguins (100,000 pairs). It was a special opportunity to go there because usually the swells are too bad to accommodate landings. It was awesome. There were so many penguins. The glaciers were also producing run-off making little rivers. We had the chance to climb high on a ridge to see both coasts, the glaciers, and the colonies below. Awesome weather and an awesome day.
On the way into the island's great caldera for our next landing at Whalers Bay, we were treated to the spectacle of a leopard seal having its lunch: fresh penguin. A gruesome sight in some ways, but one that nonetheless let us witness first hand the awesome power of this top predator. Everyone has to eat. . .
On arrival, our Zodiacs quickly made their way to the shore for an inspection of the rusting and derelict whaling station, along with the younger abandoned British Antarctic Survey Base. A volcanic mudflow, a consequence of volcanic ash eruptions of 1969, has obliterated much of the dreadful history of the whaling operations, but rusting relics still stand as silent testimony of last century's slaughter. The empty large airplane hangar has the record of a more laudable enterprise for it was from here that the aerial photography coverage of the Peninsula was carried out.
In addition to examining the old base and station most of us walked and scrambled up to Neptune's Window to look out over Bransfield Strait and to the mainland at the northern end of the Antarctica Peninsula. We shared the view with nesting Cape Petrels. We also encountered another leopard seal, this time resting on the beach. Mindful of our earlier viewing, we treated it with the utmost respect.
Latitude: 62 45.0' S, Longitude: 59 58.0' W, Wind Speed: 8 knots SSW, Weather Conditions: Sunny, Distance covered in previous 24 hours: 178.6 nautical miles (nm), Air Temperature: -1 C, Sea Temperature: -2 C
The human race is indeed a strange one, and to 12 hardy souls, the perfect end to the day's landings was a dip in the waters at Deception. Why would someone want to strip down into shorts and swim trunks and remove the layers of warmth to knowingly make the polar plunge? After a few brief seconds (except one guy, goggles, swim cap, and Speedo, from San Francisco who does daily swims in the bay and was used to the cold water), we ran out of the water and quickly made our way into a nearby hot spring fed by the caldera's geothermal activity.