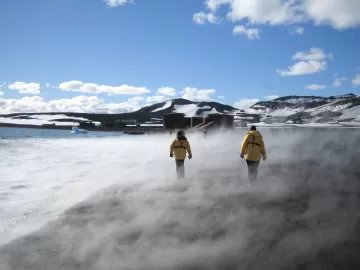 Latitude: 64 49.0' S, Longitude: 62 40.0' W, Wind Speed: 0 knots 0, Weather Conditions: Sunny, Distance covered in previous 24 hours: 68.7 nautical miles (nm), Air Temperature: 5 C, Sea Temperature: 3 C
After breakfast, we were in position to disembark at Neko Harbor in Andvord Bay, our final landing of the trip. Over the last few days, we have all come to enjoy penguins -- watching their activities at a variety of rookeries provided us with many happy memories to take back to our respective homes. It was then, with some sadness, we realized the Gentoos here would be the last rookery we were to visit. The gray clouds and intermittent snow added to the somberness of the scene.
It was not only the penguins that were of interest. We were also attracted by a walk up to a viewpoint over a nearby glacier. Some frivolity was included by sliding quickly down the steep snow slopes to the accompaniment of the Swiss contingent in our expedition, who was yodeling from above.
Our last Zodiac cruise was to be another memorable one. Calm seas and sunshine around the Melchior Islands, and, once again, some very pretty icebergs. Looking at the depth of snow coating these low-lying islands, one could easily see that conditions here were not always so benign. Attractive though it was, the scenery once again had to move off center stage as we had our second amazingly close encounter of the whale kind in as many days. This time it was two Humpbacks performing to the musical whirr of the camera shutters. Keeping slightly more distant than yesterday's Minke whales, it was still a quite remarkable display.