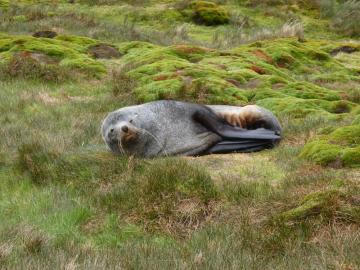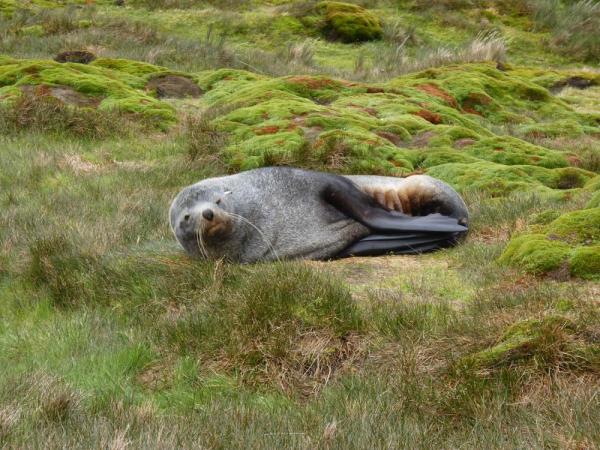 We wake up early to get ready for our 7:00am zodiac cruise. As a special treat, we are able to disembark on an ice floe. In our prior ''Ice is Nice'' lecture, we learned that ice floes are formed from the saltwater of the ocean. At subzero temperatures, the ocean water freezes; the salt settles out eventually creating sea ice. This means that the ice floes are sturdy, especially compared to icebergs, which are compacted snow. While we remember the lecture and see our smiling expedition leader, we are still a little nervous to step aboard, and yet we do.
Happily, there are nine adelie penguins ready to greet us on the ice floe. They have an amazing amount of energy. They walk around the ice, but when they want to move really fast, they lie on their bellies and toboggan with their flippers. The nine adelies seem to be connected. All will stop moving, and then all of a sudden they all move at the same time. Their sudden, comical, and directionless movements make them look like slapstick comedians. Each person is only permitted about ten minutes on the ice floe, but we take some great pictures and have happy memories. Later, we find out that L'Austral is the only ship that allows landing on ice floes as many consider it too risky.
We return to the zodiac to continue the cruise. We see tabular icebergs in the Weddell Sea and what looks like pancake ice (newly formed sea ice). However, I found out later it is actually just fragments of the icebergs. Many of the icebergs are blue as pure ice is blue in color because it absorbs red light most efficiently. Glacial ice range in color from white to milky blue because air bubbles trapped in the ice scatter the white light.
Unfortunately, our afternoon disembarkation is cancelled as the weather conditions are not safe for our first landing on the Antarctic continent. We are not surprised as the wind has picked up and we can see whitecaps. Despite our landing cancellation, we have a bit of luck seeing a mother humpback whale and her calf. The ship stops so we can watch the whales while they feed. We are able to see the tail. But, it's almost impossible to time the pictures perfectly. We continue to try, but are ultimately very happy that we happened to see a whale. It's a large ocean, and you can't exactly schedule their visits.
For New Year's, the pianist and vocalist put on a special Jazz Show. After the show, the kitchen treats us to a special five course New Year's Eve dinner, including scallops, a limoncello palate cleanser, and dessert. We eat with friends as well as the staff captain. He tells us about the ship and the upcoming Drake Passage. The three hour meal goes by quickly.
After dinner there is a show with a modern-style dance and then a New Year's party with champagne, balloons, and noise makers. We stay up late and enjoy the party.