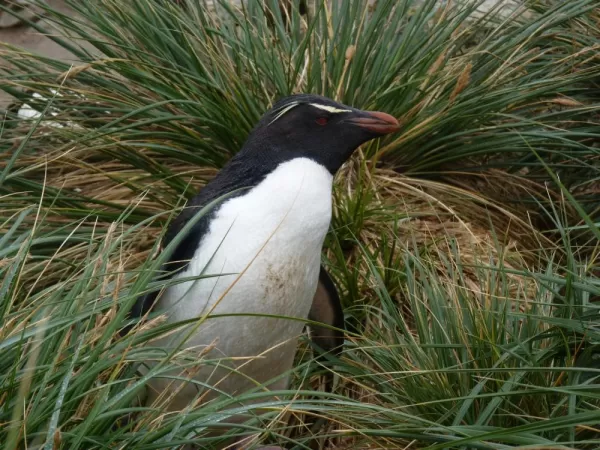 We wake up early to have breakfast before our 7:30am zodiac ride to Gold Harbour. Gold Harbour takes its name from the pyrite or ''fools gold'' found here in 1911. We wonder whether we will see any on shore, as we enjoy the view of the glacier in the distance and king penguins swimming nearby the boat.
On shore, we are greeted by elephant seals grunting and king penguins chirping (or actually kazooing!). The elephant seals are fun and unpredictable. One minute they are lazy, then suddenly they prepare to fight with threatening belches, and then a few moments later they are sleeping with their heads on top of each other. Further down, a meadow hides some more elephant seals that are calmly lying in a group enjoying the sun. But, all of a sudden one emerges, pushing itself forward awkwardly. When it moves, it looks like an enormous caterpillar. It has an amazing amount of blubber, making each movement look like an impressive amount of work.
Elsewhere, a few gentoo stragglers mix in between a king penguin rookery. While there are many king penguins, it's not as vast as St. Andrews bay. Still, we get to see many brown king penguin chicks. Many of the brown chicks are almost as large as their parents, but they still constantly beg for food. Watching them get fed directly out of the parent's mouth seems comical. The brown chicks just seem lazy. Is fishing really that hard?
After about an hour on land, we are ushered back to the zodiac and by 9:00am L'Austral sets sail for Cooper Bay. We arrive at Cooper Bay and gather into groups of eight for a zodiac tour. The eight of us ride the zodiac along the coast and around large rocks that are sticking out of the water. We see a large group of macaroni penguins, many of them perched high on the large rocks and coastal bluffs. They look and act much like the rockhoppers that we saw in the Falkland Islands. They both have arched backs, red eyes, and colorful crests on their head. The biggest difference between the macaroni penguin and the rockhopper penguin is that the macaroni's crests are larger and meet in the middle by its eyes whereas the rockhopper's crests do not meet.
As we continue down the coast, we see many fur seals and one large elephant seal swimming around in the bay. We watch countless porpoising penguins as we start cruising through the Drygalski fjord. There are blue-eyed cormorants and shags nesting on some of the rock outcroppings. For the first time, we see a chinstrap penguin. This lone penguin must have forgotten where his friends are.
We return to the cruise ship just in time for lunch. Today, we have a seafood buffet with prawns, scallops, and fish. We start sailing for the white continent.