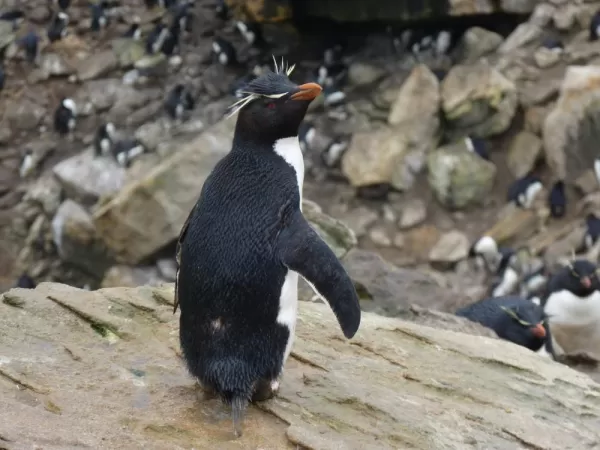 We wake up while the ship is still a few hours away from South Georgia. Fortunately, the animals of South Georgia came to greet our boat. We see fur seals porpoising as we continued on our way. We eat breakfast on deck two while seal spotting out the window.
We depart by zodiac for our five-hour hike, braving steep rocky steps, snow-covered passages, and enjoying waterfalls. The hike begins at Fortuna Bay where we see many fur seals and one lone king penguin. We start our ascent and see caribou in the distance. There is one fur seal high up the mountain side enjoying the view, but he is alone as he is far from the water! We continue up our broken slate walkway coming to a hidden lake at the top of the mountain. The lichens are peppered with dew drops and are quite beautiful. The view of the mountains is spectacular. We walk through a snowy valley and trek past a waterfall. The creek turns into a marsh that we must walk through. Good thing we have our Muck boots. We see caribou again in the distance. The descent down to the valley is steep, and two people accidently slide almost 100 meters on their butts (unharmed).
As a special surprise, a group of gentoo penguins is waiting for us on a small ridge above the marshlands. The adults stay very busy either feeding their chicks or picking up nesting materials with their bills. Their effective use of their bills almost makes it feel like they are mocking us: ''Look at us. We don't need no stink'n opposable digits.''
We walk through more marshes in the valley before arriving at a deserted whaling station. However, it isn't really deserted because king penguins, fur seals, and pups have made it their home. It is a busy place, and we enjoy watching the animals interact.
That evening we have dinner on level two, while watching for more fur seals in the water.