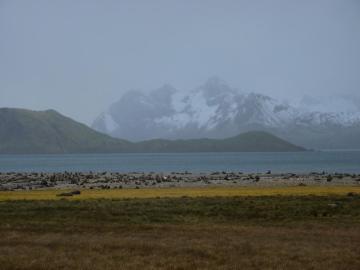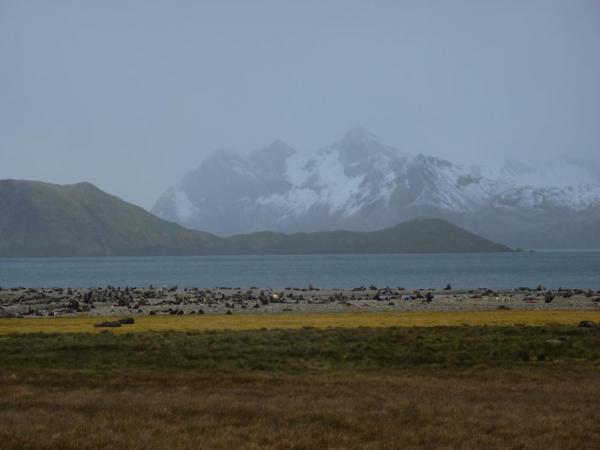 This morning we look outside and see the sun shining, and the water is so still it looks like a mirror. The water is so still because we are in Neko Harbour, which is a small bay indenting the shore along the west coast of Antarctica. We are lucking out with a beautiful Antarctic day!
After riding the zodiac to shore, we hike up a path towards a cliff that provides a view of Neko Harbour. On the way, we see a gentoo rookery. This is the first rookery that smells really badly. We take a few pictures, but quickly decide to advance up the hill. The view at the top of the hill is magical, and it is quite warm for our first landing on the Antarctic Peninsula. We take off our jackets and sit down to enjoy the view.
Back on the cruise ship, lunch is outside on the sixth floor. Lunch outside in Antarctica, who would have guessed? While the ship travels to Paradise Bay, we see another humpback whale. The whale is feeding so it repeatedly surfaces. The ship continues, but a little while later we see our sister ship: Le Boreal. The ships' crew exchange resources and the ships' passengers exchange hoots and hollers. It's fun to see another ship, especially after feeling so isolated out in the middle of the ocean.
We enter at Paradise Bay and have another sunny expedition. We take a zodiac excursion around the Bay and Skontorp Cove to look at the interesting tabular icebergs. Some of the icebergs have patterns on them, and the icy glacier cliffs each look unique. We watch some small avalanches. Some of the snow is piled high in the air, perhaps 150 feet. The snowy cliffs give way to some rocky cliffs where blue eyed shags nest.
We arrive at Almirante Brown where there is a gentoo penguin colony near the Argentinean research station. The smell of gentoo guano fills the air, but we enjoy watching the gentoo penguins wander to the shore.
There is a path to the top of a hill where we hike to a great view of the icebergs we visited on the zodiac. Once at the top, we slide down the hill on only our snow pants. We thought we would practice feeling like penguins. Unfortunately, our sliding speed is fairly slow, and we get snow in our pants. Apparently, being a penguin is harder than it looks.