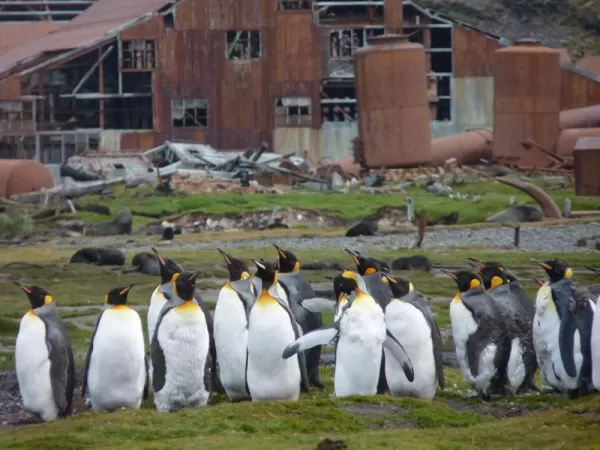 We are lucky to be awake while entering the portal to Deception Island, as the weather ends up turning for the worst a few hours later when we exit. Deception Island is a sunken volcano and creates a horseshoe shaped island with an opening 230 meters wide. It is one of the safest natural harbors in the world, but it still gets windy. We arrive at Telefon Bay and a blizzard is hitting the island. Fortunately the conditions for the zodiac aren't too bad, so the crew allows us to land.
Once on land, we realize we will only want a short amount of time here, as strong blowing wind makes it unpleasant. This landing is more consistent with what we expected from Antarctica. It is windy and the snow is whipping at our faces, finding every bit of exposed skin we have. We both wear our sunglasses to block out the sun and to protect our eyes from the blowing snow. We make it to the top of the lookout and are surprised the snow isn't sticking to the volcanic ash. It just keeps blowing around. There is no wildlife here, but seeing the effects of the volcanic activity is interesting.
After lunch, we try out the on-ship pool which has just opened. Some people say the pool's water is 30 degrees Celsius (or 90 degrees Fahrenheit), but I quickly confirm that is not the case. We stay in the pool for about three minutes. Oh well, the experience is more memorable cold!
Our next stop is Aitcho Island which is part of the South Shetland Islands. Barrientos Island is covered with extensive beds of moss and lichens. It is home to gentoos, chinstraps, and elephant seals. This is our first opportunity to see a chinstrap rookery, and we are pleased to see chinstrap chicks. We also see many skuas nesting. We are on the island for about two hours, and our fingers are getting cold, so we decide to leave. However, right as we are leaving, we see a skua take off with a gentoo chick. It is stressful to watch the little guy struggle to get free. Many other gentoos try to rescue the chick. However, in the end the chick is sacrificed.
We return to the ship and have hot chocolate in the lounge to warm our hands before dinner on level six. Thankfully, we learn that the Drake Passage is predicted to be quite mild.