Once you board your expedition cruise ship, your trip starts to feel an awful lot like summer camp for adults. You have a daily schedule that starts to feel routine after a few days: breakfast, followed by an excursion, followed by lunch, followed by another excursion, followed by a recap/briefing, then dinner, and if you've still got any energy left after that, drinks and entertainment in the lounge. Somewhere in there you take a shower, watch for whales from the deck, attend lectures given by your naturalist guides, participate in citizen science programs, and bond with your fellow travelers as you create once-in-a-lifetime memories.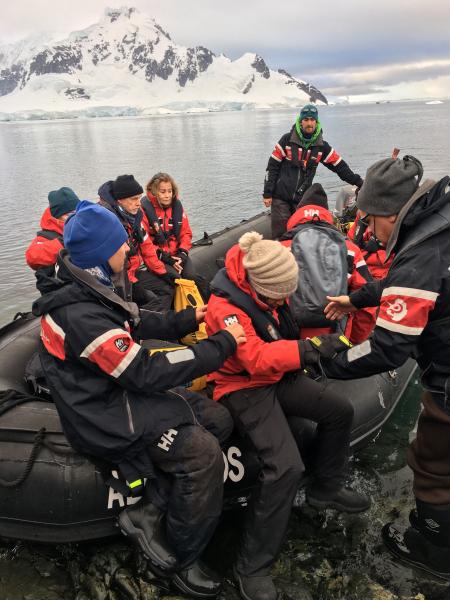 Your daily meals and activities are announced via loud speaker by your expedition team, whose voices you come to recognize intimately. 
What starts out as two rather leisurely days on the Drake Passage quickly turns into fast-paced, exciting days that create a sensory overload. It's fascinating, engaging, and awe-inspiring, and regardless of how long you've been on that boat, it leaves you wishing you could stay just a wee bit longer. 
A sample day:
7:00AM: Wake up call
7:30AM-8:30AM: Breakfast, coffee, and catching up with fellow guests
9:00AM-11:30AM: Zodiac cruise excursion through Charlotte Bay, watching glaciers calve, seeing snow petrels dance on the water, cruising alongside a Minke whale, and marveling at icebergs
12:30PM-1:30PM: Lunch on the Lido Deck because it's sunny and a balmy 33 degrees Fahrenheit outside!
2:30PM-5:30PM: Shore landing at Cuverville Island. A penguin rookery! Walk along shore and watch the fledglings plunge into the water for the first time. Giggle as younger chicks chase their mamas for a snack. Sit down on the rocks and rejoice as a curious adolescent gentoo approaches you and nibbles at your camera strap. Heart full, return to the ship.
6:00PM: Recap today's events and brief on the schedule for tomorrow. Learn that there is too much ice in the channel we were aiming for, so plans have changed for the 17th time and it's all still absolutely and utterly perfect, regardless.
6:30PM-8:00PM: Dinner
8:00PM - ?????: Drinks and music in the lounge with Randy, the incredible one-man band from the Czech Republic.
It does not get better than this, folks.