Svalbard is often regarded as a mecca for wildlife enthusiasts. Along with Africa and the Galapagos, it is one of the top destinations to see some of the more elusive and unique creatures in the world. 
There was not a day that went by that we were not entertained by some type of wildlife. Polar bears were, of course, very high on everyone's list. The crew searched diligently, even through the night and would announce whenever a polar bear was spotted. Though polar bears are found all over the Arctic, Svalbard, being relatively small in comparison, is one of the most reliable places to see them. The wonderful thing about expedition cruising is that the agenda is always up to change so anytime a bear was spotted we would slow the ship and spend hours just watching the bear interact with his landscape. Being on the ship you could always retreat to the lounge or your room and return to watch the bear again later. 
Walruses were another large creature that many of us were watching out for. We were rewarded several times seeing them lounging on an ice flow, but the most impressive sighting was at Poolepynten when the shallow water provides prime feeding ground. There was a colony of over 50 walrus hanging on the beach and lumbering in and out of the water. The marine biologist set a line and we went in small groups to observe the colony.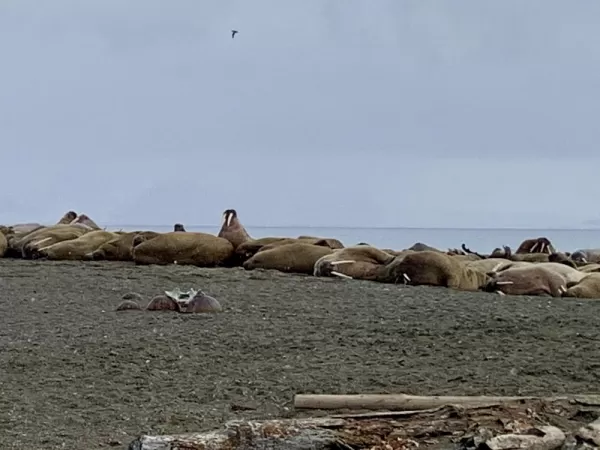 Another exciting sighting was a colony of Little Auks. Our ornithologist on board had studied the actual colony that we visited at Isbjornhamna. Being that I am not a big birder myself I didn't expect to be too impressed, but the massive colony and charming little birds won me over and I sat for a good 30 minutes or so just watching them flit about on the cliff face. Though my sad little camera can hardly capture the impressive sight.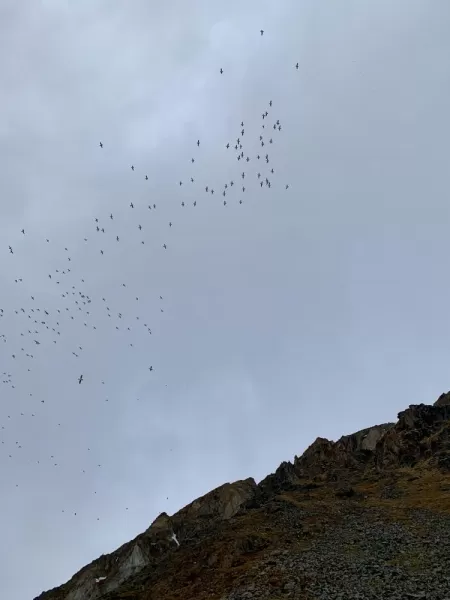 Our crew's efforts were also rewarded by sightings of seals, puffins, minke and beluga whales and numerous other bird species throughout the duration of our trip.