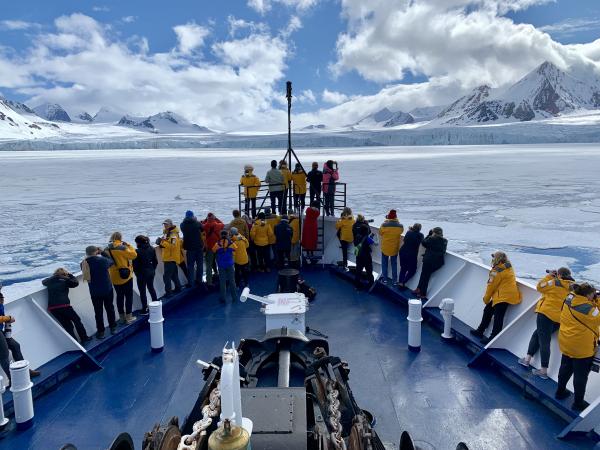 Ever wondered if an expedition cruise is the right fit for you? If you think cruise and immediately think of multi 1,000 person ships, Broadway shows, on board night clubs, water parks and giant buffets - think again (other than the giant buffet that is). Expedition cruise ships are typically between 50 and 500 passengers. The real effort here is to see as much as possible and experience the landscape. I traveled on Quark's Ocean Endeavour, the maximum capacity of which is 199 passengers, but rarely houses over 150. On my particular voyage there were only 118 guests which was nice and cozy.
On board entertainment consisted of informative lectures regarding marine biology - including polar bears of course - geology, photography and more. We spent a lot of time standing on deck scanning through our binoculars and whenever a guide spotted something there would be an announcement over the loud speakers to let everyone know to come on out and get a view. If it was something special like a polar bear or beluga whale, the day's schedule would often be thrown out the window in favor of just watching.
The days were loosely structured but everything was certain to change depending on the events or the day and the weather. During our 9-day cruise we did five shore landings with options for hikers and walkers of all ability levels and five zodiac cruises.
The accommodations were simple but comfortable and the food was pretty darn good. One thing I was not expecting was the sheer amount of food and options every single day. I don't think I ever saw the same dish served twice. At both breakfast and lunch a huge buffet was laid with an option for every appetite. At dinner, the plated meal was always offered with two or three options for both soup and salad along with two entree options. Along with the special options each night, you could always request another dish if something didn't sound good to you. Cookies, coffee and tea were available 24/7 and snacks were often out mid day before dinner - there was certainly no concern about going hungry!