The first Arctic wildlife we saw were two Reindeer. We saw them from the bus window on our way to our hostel in Longyearbyen. We quickly discovered these sightings were not uncommon, during nearly every landing during our cruise we saw Reindeer. They were short and stocky. And we learned they are not native to Svalbard. They were brought to the islands, from other regions in the Arctic, by humans as a viable hunting option. Due to the extremely harsh winter conditions they slowly adapted into what they are today, their own subspecies of Reindeer. 
Reindeer are the only deer where both females and males have antlers. The males shed their antlers in November after the rut. The females keep their antlers until the spring, to fend off predators and protect their calves. Our guides joked that Rudolph and Santa's other helpers were obviously females since they are still antlered at Christmastime.
During the time we were there the males were losing their velvet, meaning the blood supply had been cut off and the skin on their antlers was peeling off in strips. They weren't shy, and since we saw them all over in herds of 3-20 we had several opportunities to watch them graze, nap and fight.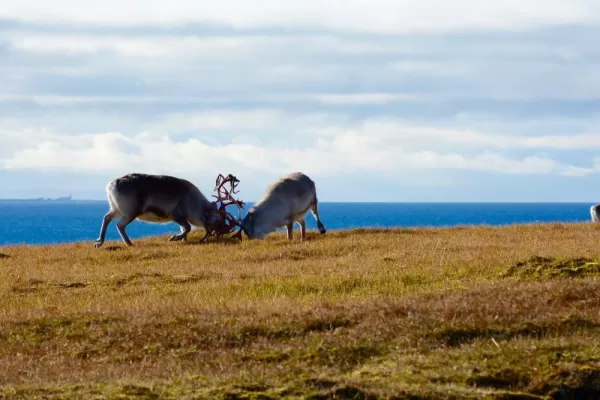 The other large animal we saw a lot of was Walruses. These guys were a real treat! I had no idea how massive they are, males getting up to 2 tons in weight! We got to see them in the water and up close on the beaches. Because of their huge size, they are limited to where they can maneuver themselves up onto land, meaning they are commonly found on low gradient, sandy beaches. During our visit to Kapp Lee, a place Walruses were once heavily hunted, there were many Walruses waiting on the beach for us. It was fascinating watching them wallow around in the shallow water, occasionally stabbing at each other with their tusks.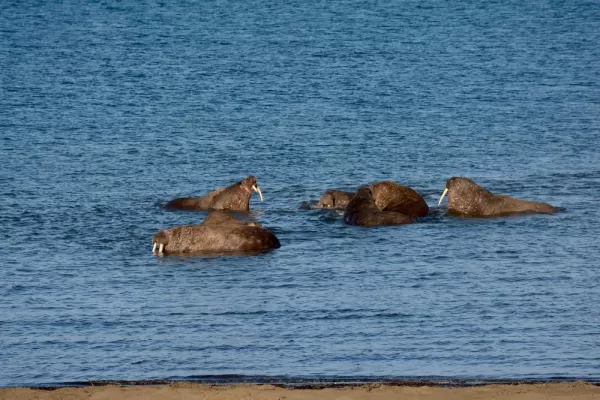 '
The other location where we saw a literal "pile" of Walruses was at Kapp Waldburg. We approached the herd of nearly 50, who were sunning themselves and napping on the beach, very slowly as one group. I was actually quite impressed at how quiet a group of people can be with a little incentive. We watched one walrus use rolling as a means of transportation as he made his way into the water.