During our descent into Oslo, I couldn't help but notice the similarities to Oregon's Willamette Valley. I joked with Haley that we could have hopped on a two hour plane ride, rather than the sixteen hours of combined flight time, and ended up in practically the same place. But I quickly learned the travel time, airplane food and movie binge session was well worth it. Oslo is truly lovely. Even as jet lagged and zombiesque as we felt, we managed to enjoy every moment of our brief stay. It was easy to navigate and incredibly clean. The airport has a self-explanatory train that takes you right into the heart of the city. For some reason I had deemed myself navigator, so the pressure was on! After a few wrong turns upon leaving the train station, we found that orienting ourselves in the unfamiliar city was easy and we made our way to our hotel. We had done a small amount of research on what there was to do in Oslo, and as we only had 24 hours we didn't skip a beat.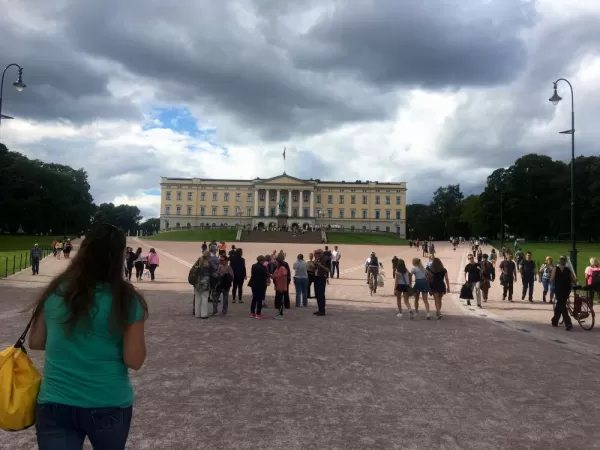 After dropping off our luggage, my royal-obsessed travel partner beelined it toward the Royal Palace, and I tried to keep up. We spent the afternoon wandering the lush grounds of The Jubilee Park, which was full of sculptures (we quickly discovered the Norwegians are fond of unique and weird statues) and other activities since they were celebrating the 25th anniversary of the crowning for the current King and Queen. Haley was even able to write them a congratulatory note.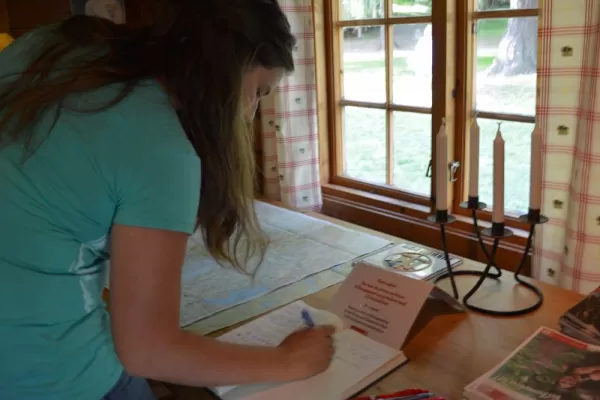 Although we didn't have any set plans, we found our way to the harbor which was packed with people and our time was well spent wandering around the streets and simply taking in the scenery. We stumbled upon a festival with lots of music and food venues. We didn't get around to asking anyone what exactly was happening, but we did enjoy the sights and the food.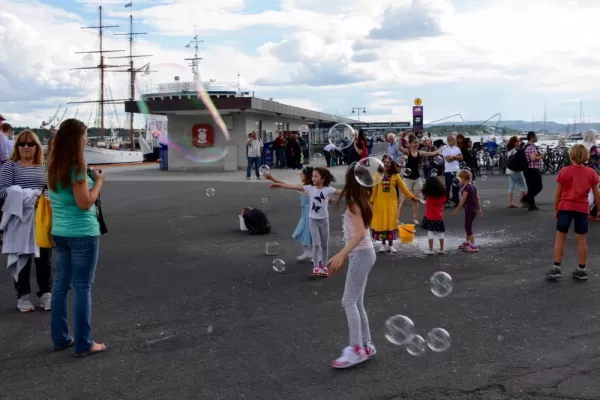 As someone who considers eating a favorite activity, I was looking forward to trying some authentic Norwegian fare. For dinner I ended up eating Poke, a Hawaiian dish of raw fish and rice, from a food truck. Not exactly Norwegian, but I was teetering on a line of hangry and I didn't want Haley to experience that ugly side of me. I figured we were on the water so the fish must be fresh, and I was not disappointed!  Regrettably, I can't say l was able to eat my weight in Norwegian waffles and brown cheese. I guess I will just have to return to Norway for the hiking and the food!
We ended our evening atop the famous, Olso Opera house and enjoyed the 360 view of the harbor sunset. The next day, mid-morning we returned to the airport for our next stop, Longyearbyen!