People flying into the Missoula International Airport often comment on the taxidermy Grizzly that greets them. After 48 hours of travel, I couldn't help but chuckle when we shuffled into the Longyearbyen airport to find a massive Polar Bear watching over the baggage claim. Two bears, 3,500 miles apart welcoming me to my final destination.
Polar Bears are the iconic symbol of Svalbard. Due to the large population of bears on the archipelago, it is actually illegal to leave the settlement of Longyearbyen without a high powered rifle, strictly for self defense purposes. I imagine that many tourists found it strange to see multiple young folks, likely local university students or scientists, with a rifle slung over their shoulder wandering about town.
The next bear we saw was also stuffed. His home was in highly recommended
Svalbard Museum
. I was amazed at his sheer size. I stood there and stared at him half expecting him to move. I was well aware that he had been long deceased, but it still gave me an eerie feeling being close enough to reach out and touch the massive king of the Arctic. Of course, being the good sign-following tourist that I am, I resisted the urge.
My one wish for our trip was to see a (live) Polar Bear. Our expedition leader did a good job of managing our expectations. He told the group on the very first day that it was unlikely we would see any and he reiterated that wildlife sittings are never guaranteed. Although this crushed our hopes in the beginning, Haley and I went on to see eight Polar Bears. Each and every spotting was quite a treat and none of them were taken for granted. All of the bears were at a good distance, and we spent what seemed like hours with our binoculars pressed to our faces leaving rings around our eyes.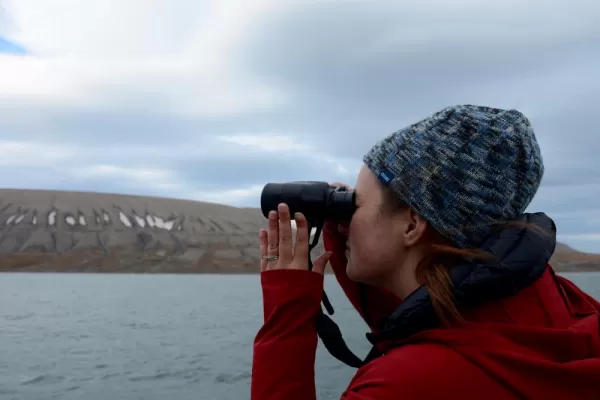 Our guides told us this is the time of year the bears are conserving as much energy as possible waiting for their next meal. We first saw a sow and her cub curled up and sleeping. The next two were sleeping under a cliff of birds where we were scheduled to land. Needless to say, that landing was cancelled. Preferring bears to birds anyway, I was okay with that. We were told these bears were strategically placed waiting for eggs to fall. Even though all of my photo evidence only shows-up as white specks, I will never forget the adrenaline rush and hold-my-breath-until-I-turned-blue honor of witnessing a Polar Bear in the wild.