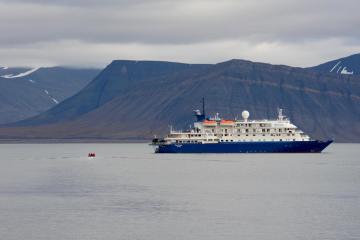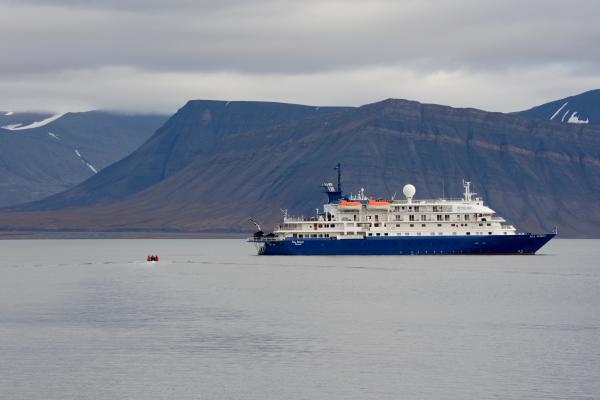 Growing up in the landlocked state of Montana, my boat experience was limited to lakes and rivers. I didn't know what to expect in terms of what sleeping on a ship would be like, what a a cruise schedule was like or what exactly an expedition cruise would entail. The Sea Spirit was beautiful, and had recently been refurbished. The cabins were large and comfortable. The staff were all incredibly friendly and helpful. Haley and I enjoyed getting to know many of them during our 11 days together.
Many people have a preconceived notion of what a "cruise" looks like- and this was nothing like that. Although, I did eat a lot (I tried to limit myself to one dessert per day), and I did take full advantage of the jacuzzi, overall the experience was incredibly active and I went to bed exhausted every night.
Our typical daily schedule on the Sea Spirit:
8am: Wake up call.
One morning we were awoken with the announcement that there was a "pile of walrus waiting for us." Best wake-up call ever!
7am-8:30am: Breakfast served in the dinning room.
-an amazing buffet spread, always an option for fresh cooked omelets or the daily special (ie scratch made pancakes with blueberry compote)
9am: First group loaded onto zodiacs.
With 99 passengers, we were split into two groups in order to limit time waiting in lines.
930am: Second group loaded onto zodiacs.
9:30-12: Morning activity.
Depending on physical comfort level passengers could choose between a walk or more strenuous hike -often times visiting a historical site or glacier.
12-2pm: Lunch.
Always a large buffet selection of delicious food. Occasionally, there was also a bbq lunch option on the upper-deck.
2pm-5:00pm: Afternoon activity
(hike or walk, zodiac cruise, etc. )
6pm: Debriefing in the lounge.
An overview of what we did/saw that day and proposed itinerary for the following day
7:00pm: Dinner served in dining room.
A three-course selection off of a menu.
9:00pm: Entertainment in the Club.
Time to relax and listen to our incredible on-board musician, Randy.