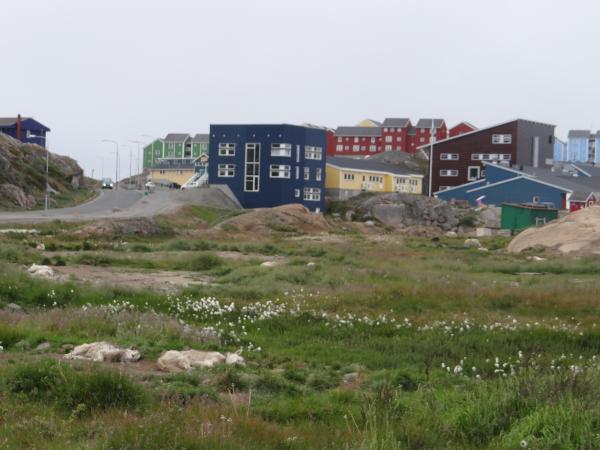 Sisimiut was our first official stop in Greenland after our journey down the Sondre Stromfjord. The community has been around for 4,500 years. From the Saqqaq culture, we saw additions of the Dorset people, the Thule and then from Canada and Denmark. Sisimiut means "the inhabitants at the foxhole" and remains ice free all year. These conditions, coupled with some of Greenland's deepest fjords, make the bay home to some of the areas many whales and seals. Sisimiut is known largely for its fishing industry and is a busy port! We saw many families leaving by boat with food and goods for their home.
Sisimiut was also our first view of the bright colored homes that are so iconic to the Arctic. When Denmark colonized Greenland back in 1721, the arrival marked the new colonial style of wooden homes sent over from Denmark in timber kits. They also found that it was easier to paint the homes with colors for what was in the building while the locals were still learning to speak Danish. Commercial homes were red; hospitals were yellow; police stations black; the telephone company was green and fish factories were blue.
Nowadays, you'll also find orange, pink and purple scattered about the village. I think this is a wonderful contrast to the tundra brown.
We had a lovely time walking the village with our guide. We visited the local heritage museum, saw the many sled dogs resting in the summer sun and visited the grocery store to stock up on my favorite Scandinavian chocolate bar: Daim med melk sjkolade.