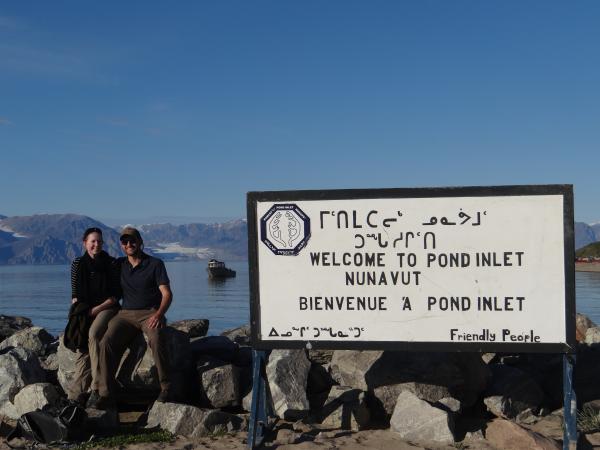 Our itinerary had intentional stops to communities throughout Greenland and Canada.
Ilulissat and Sisimiut were our two Greenland stops. These bustling towns were full of families and guests. From fishing to hunting, teaching and learning, the communities seemed vibrant and full of life. The heat of the summer led to families walking along the roads and preparing for the winter. Sled dogs napped in fields and looked scruffy as their coats shed fur. The residents were still shy but welcoming to the ship and were excited to sell their many carvings and goods. We enjoyed these visits and saw how much the Danish have made their mark in these towns. Greenlandic and Danish are spoken first followed by English. Lots of smiles and pointing were how we communicated to take a pictures. The homes were colorful and seemed really cozy.
For Nunavut, we had stops tentatively scheduled in Qikiqtarjuaq, Pond Inlet (Mittimatilik) and Resolute. Unfortunately, Qikiqtarjuaq was covered in thick fog and our customs agents were not able to land so we could not visit the community. It was a heartbreaking reality but a reminder that the weather is unpredictable and that itineraries are always tentative. We did make it to Pond Inlet to clear customs and had a wonderful afternoon exploring the town.
Baffin Island seems so different in comparison to Greenland. The homes were not brightly painted but still looked cozy. The ports were not as commercially busy but still had families headed out to fish and hunt. We were taken to the community center and a presentation of Inuit culture awaited. We heard traditional throat singing by the women, Inuit games (They are strong and athletic) as well as singing and dancing by all. It was a beautiful moment of pride for the Inuk people and the whole ship was so appreciative for the chance to see the performance. We then spent some time after the presentation to watch some locals and Adventure Canada play baseball on the new field before we wandered back to the ship. We stopped by the grocery stores to see what one can eat up north. Turns out there was a lot of familiar brands but the prices were three or four times more than we would pay back home. I believe families still try to hunt seal and whale for the community as the main source of food but regulations and money have made the addition of processed food necessary in these communities.
We disembarked in Resolute and were taken straight to the airport so we did not have a chance to see this community. It is home to about 250 members (quite small) and they see some of the darkest winters. Imagine five full light months, five full dark months and two months in between for the transition. We were spoiled by the sun and the thought of living in Pond Inlet didn't seem so bad.