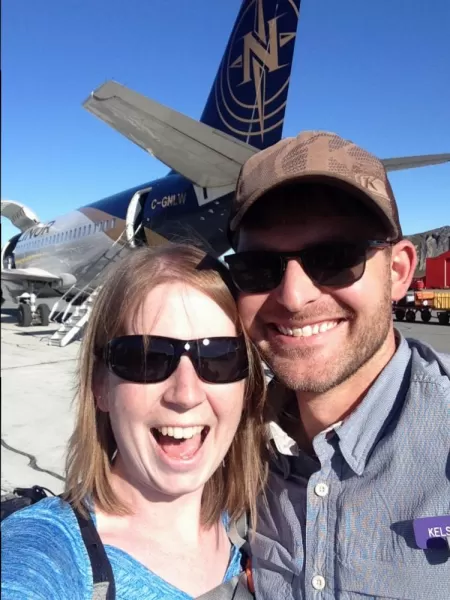 There are not many ways to fly North without spending a heavy number in dollars and time. We heard from staff that a charter flight to Resolute could cost a person around $7,000 US! Fortunately, Adventure Canada and similar companies have the chance to charter airlines to transport the group to and from the ship all at once. Making it all the much easier for coordination, time and a chance to build relationships is an added bonus.
On a map, it may not look like the Arctic is that far away but it really is! Each flight to and from our embarkation/disembarkation cities was longer than our total time in flights to get from Missoula to Toronto. Canada is a large country and its northern provinces extend beyond the paper map.
Here is how we got to the Arctic:
Our welcome briefing was full of fun introductions of the staff we'd get to know on board, the office staff of Adventure Canada as well as lots of food to munch on.
We went over the plan for the next day for how we were getting to Kangerlussuaq:
Two flights would be departing in the 0700 hour to head north. Our flight, #1, had a scheduled technical stop in Goose Bay, Labrador to refuel. We would then land about 30 minutes after flight #2 and would be transferred to the ship.
We woke up bright and early the next day and learned that our airplane had experienced a mechanical failure and we would be waiting for a bit to take off. Flight #2 left a good hour before us and we finally were loaded on the plane. This is the true spirit of expedition travel: be flexible, have fun and know that you're all in this together. The true beauty of polar travel is that you can never expect Plan A to always be the full plan. I think our flight delay put us on Plan C.
We had our brief stop in Goose Bay (which looked amazing) and took-off for the final destination: Greenland!
Coming over those icecaps was an amazing and exciting moment. Almost 83% of Greenland is covered by one ice cap. The outlying coastal areas are the most habitable places for small communities and Kangerlussuaq was our destination. The airport of Kangerlussuaq was once a US Air Base for use during WWII due to its relatively mild weather and location to Europe. It is now Greenland's main international and domestic airport. Any flight to Greenland has a first stop here. Kangerlussuaq is also home to Greenland's longest road of just 13 kilometers!
Once we landed and received our quick stamp from a customs agent, we headed out on this longest road to the port. We got our life jackets and first zodiac briefing and jetted of towards our home for the next 12 days: The Ocean Endeavour!