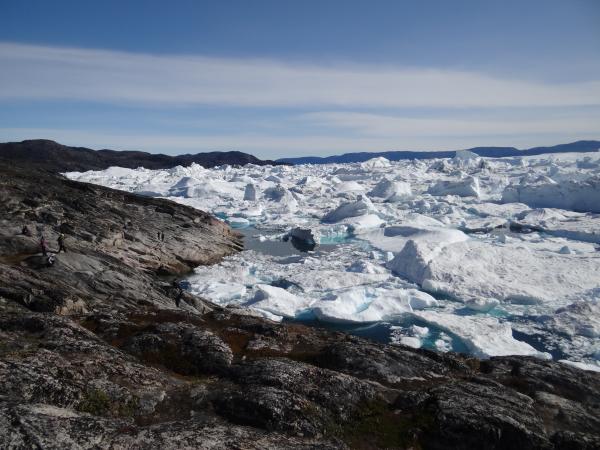 The morning into Disko Bay is one of the most memorable days of our cruise. We entered these calm waters to be greeted by hundreds of icebergs and in every shape/size you might imagine. Our excitement grew as the icebergs started getting packed together as this was the sign we were entering the mouth of the Sermeq Kujalleq glacier in the Illulissat icefjord.
This glacier, Sermeq Kujalleq, is one of the fastest glaciers in the Arctic. It calves over 35 cubic kilometers of ice (about 10% of the Greenland icecap's annual production) into the sea. In 2004, this icefjord was admitted into the USNESCO's World Heritage list.
Kels and I had the morning zodiac ride and were taken off into the mouth of icefjord. We stayed at safe distances from the icebergs and the sheer size was astounding. Most of the icebergs are over 20,000 years old and have slowly been pushed out to see with each calve of the glacier. We could hear the gunshots of breaking ice further in the ice field and kept our eyes peeled for any splashes in the water. We lucked out and saw the tip of a Minke whale swimming at a distance.
Once on shore, we headed up towards the viewpoint of the icefjord. We stopped at a local café for a quick coffee and bathroom break. Most passengers stayed longer and enjoyed a muskox burger and fries. While every so tempting, Kels and I had picnic sandwiches from the ship and ran for the ice. The walk up was breathtaking and our eyes quickly acclimated to the bright white against the sun.
Once we reached the top, we sat on the rock's edge and just stared at thousands of bergs. Some flipped, some cracked and some simply turned a brilliant blue. We spent about three hours just watching, hiking and watching. The occasional picture was taken even though nothing had changed. We let our minds be free of thought and really took in the views in front of us.