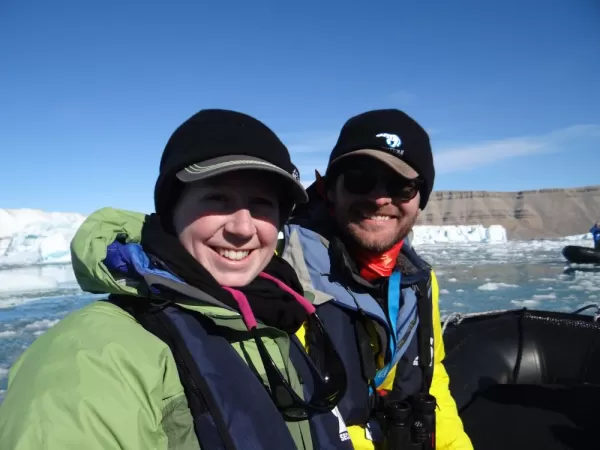 Packing for the Arctic felt really daunting and tricky in the heat of our Missoula summer. Our winter clothes had been packed away for some time and the thought of temperatures below 50F seemed like a dream.
Luckily, we had a packing list to help us start the process. The biggest and best thing you can do is think in lots of layers. They will always be your friend in the Polar Regions and incredibly useful for the various activities and weather you might experience in one outing. Sweat is also the last thing you want in the Arctic. Too much moisture can lead to extreme situations for keeping you warm.
Your outer layer (both jacket and pants) is most important and should be waterproof and windproof. We wore ours every day on every cruise and landing just for added comfort. Even when the sea is calm, the knowledge that a rogue wave hitting us would not result in a wet few hours.
Next, a fleece or down coat/vest is recommended along with additional layers of synthetic long underwear and sweaters/fleece.
On our coldest zodiac cruise (35F on water), I wore long underwear, fleece pants and rain pants. On the top: long underwear, a thin wool sweater, fleece, down coat and my raincoat.
We also always wore a ball cap and beanie combination (even started a trend on board!) for warmth and protection from the sun. Two pairs of socks for zodiac cruises just to keep our feet extra toasty in our boots and gloves for our hands. Again, with our fabulous weather, the gloves went off and on as we floated between icebergs and on shore.
It was never too cold for comfort on our zodiac cruises and the length of time spent on the water was just enough before the body starts to protest.
We chose to pack very light for our time on board and wore many of the same clothes each day. While having more variety in clothing could have been nice, it was great to just throw on a pre-determined set of gear and get outside. My only wish is that I had grabbed at least two extra pairs of cotton socks for inside use (wool is much too warm) but I survived. We also chose to bring one pair of light hikers for the trip. My feet felt great the whole time but we were quickly wanting some sandals for evening programs and wear around the ship. Socks and sandals anyone? It's totally cool on a boat. J
The other critical piece of gear you'll want is a good pair of waterproof boots. Fortunately, these are provided on the ship! They are good quality but more the croc boot variety. Very useful for getting on and off the zodiacs to shore but I wouldn't hike in them for too long. There was always a staffer around to watch the pile of boots and life jackets so changing into our hiking boots was the perfect option.
Beyond clothing, other essential items are bug spray, chapstick and sunscreen. It's a bright world on the water and the wind dries everything out. The next time I get up to the Arctic, I'll also bring some really nice lotion for my face and hands so that they aren't too dry.
With these items and clothes, you're all set for your adventure!