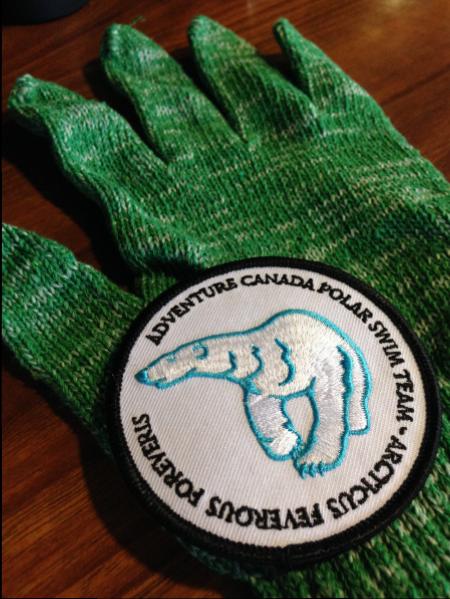 A true must on any polar expedition is the polar plunge. To be honest, I wasn't too enthused to jump into icy water but I am so glad I did. Twice. Now, I've jumped into glacial lakes in Montana but the sheer thought of the Arctic water was daunting. I had no idea how cold I would really feel and I was happy to be pleasantly surprised. The water was only 38F in Greenland and 35F in Canada.
Karrat Fjord hosted our first experience. After a spectacular day of hiking and exploring, we changed into our suits. Walked up to the Aurora Lounge in our bathrobes and chanted "Polar Plunge" as a group on our way down to the zodiac gangway. In a line, we waited for our chance to jump into the water and then let the current carry us to the next gangway to climb out of the water.
My nerves were on high alert and I was so excited to get it over with. My turn came, I yelled "Pura Vida" and dove in. The initial shock was terrible but I quickly warmed up as my head came out of the water. I swam to the gangway and pulled myself out. Smiling from ear to ear, I was given a warm towel and a shot of vodka for a congratulatory toast. My energy also reset and I was ready for another adventure.
The group of plungers was large enough that we asked the staff to please try to fit in a second plunge in Canadian waters. We were able to receive this chance while cruising in Croker Bay. That afternoon, a smaller group took turns diving in. I thought "I must be crazy to do this twice" but it was still spectacular! Warm towels greeted us again with a treat of rum to warm us up.
We received our green glove and patch for our plunges. Proud to say we have done it twice!