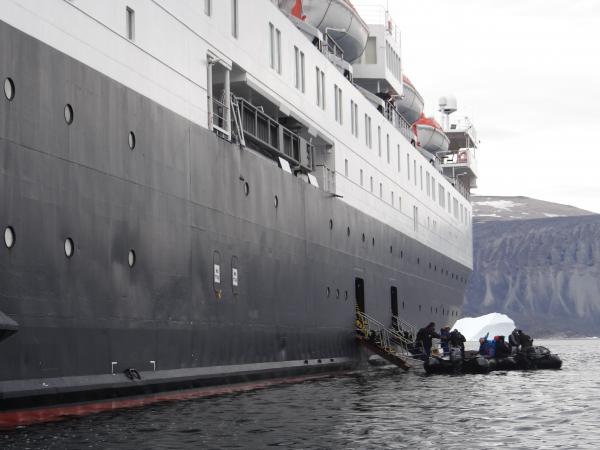 The invention of the zodiac is a game changer for expedition travel. Not only are they quick little boats, they are light, fairly easy to maneuver and large enough to hold at least 10 people. They have become the best way to travel between ship and shore as well as for quick cruises around the polar region.
Getting in and out of a zodiac can be quite tricky, especially in extreme weather. Fortunately, you will always be helped in the boat by two wrist holds from the staff. By grabbing each other's wrist, the chance of slipping into the water is virtually impossible as you are holding onto the arm of a person rather than just the hand. If your hand slips, the other is holding tight.
This is very useful when the waves or weather are less than desirable. We experienced a few wavy days and the up/down of the zodiac created a tricky balance sequence to handle. By having the secure grabs of staff on the ship, we were able to embark/disembark the zodiacs with ease.
It may seem overkill and silly to need to be so conscious of getting on and off a boat but it is truly important for safety and comfort. Even for those of us that have a lot of experience in boats, you'll make your zodiac driver SO happy if you show everyone else the proper way to load a zodiac. I wouldn't want to take a swim in the water before a cruise. That is what the polar plunge is for!
Wet landings are a common occurrence for travel to the Arctic. Regardless of the weather, most shore landings outside of a community visit will be done on a beach. The waves can crash over the zodiac or roll lazily up and down the coast. Most boats will have a nice little step to grab your boots before you touch down on the shoreline. I seldom was covered in water past my ankle and thankful for the steps on the windier days.
There is also a very elegant slide involved in disembarking a zodiac from shore. Imagine sliding on a rubber tube, add a small twirl to the outside of the boat as you swing your legs over the zodiac to then gracefully land on the step to head off to land. It is my favorite way to get out of a zodiac. Awkward and classy all together. J
To help expedite getting all 130 of us on shore, we were broken into six color groups: White, Green, Yellow, Red, Blue and Orange. The order of these groups changed each day so that everyone had a chance to be the first one out/last one in.
As each group was called, the next would be placed on standby. I thought this was a great way of shuttling us off and on the ship. Our cabin TVs were also great as they had the disembarkation schedule on our TV so that we knew how long we had to get ready before our turn was up. As our time came, we'd trek down to the mudroom, put on our life jackets and boots and load into the zodiacs for our adventure on the water.