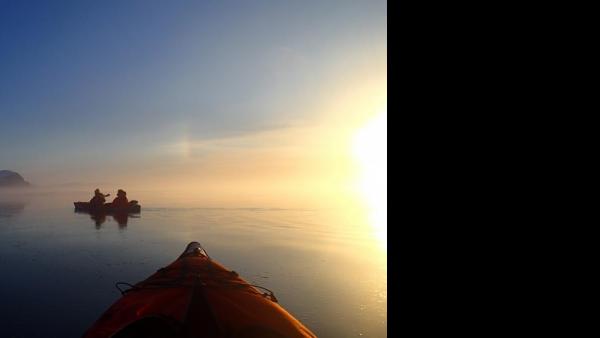 We're sitting at the floe edge hoping to catch a glimpse of the pods of narwhal that generally travel along the edge in the upcoming weeks. We're here a bit early in the season so even though we hear reports of narwhal sightings frequently, we haven't seen any whales yet. While we wait, we see flocks of Eider Ducks, Kittiwakes, and Murres. A seal pops up his head in the distance and quickly hides under the water when he notices us onshore.
While at the floe edge, we enjoy gourmet food- Arctic char sashimi served directly on the ice, spicy shrimp curry and shortcake with freshly whipped cream. After a huge meal, we burn off some extra energy playing on a nearby iceberg. From the outside, the iceberg looks like the typical pyramid shape you so often see in pictures. However, within this pyramid is a winter playground complete with a slide and perfect half pipe for doing tricks. My snowboarding travel companions are wishing they had brought their snowboards with them!
24 hour daylight has its perks. This evening, we decide to take the kayaks out on the glassy sea. The ocean has a light layer of frost across the surface that crunches softly as we paddle through. The panoramas are beautiful with full icebergs and wildlife reflected perfectly in the sea. The sun is low enough in the horizon to look like a sunset from one angle and yet have bright daylight facing the other direction.
Read more of my Arctic adventure.
Click here.