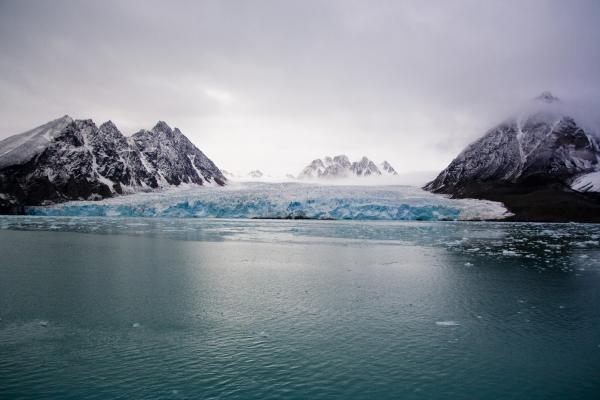 On the morning of our seventh day in Svalbard, I peeled back the curtains to see what playground awaited me and gasped out loud when I saw it. Monacobreen: A glacier so stunningly blue-hued that I thought my eyes had deceived me. Quickly turning around to tell Molly that it was the most beautiful sight I had ever beheld, I pulled back the curtains again to confirm: still blue. Throwing on a pair of jeans and flip flops and quickly zipping up a fleece jacket, I grabbed my camera and galloped down the hall in my eagerness to push my way into the open air.
Open and
brisk
, the air cut through my fleece and sent my teeth into a chattering frenzy, but nothing could tear me away from the sight which filled my vision. What I had glimpsed through my window was a mere fraction of the giant blue glacier and that fraction, beautiful though it was, did not do the rest of Monacobreen justice. Turning the dials on my camera after hungrily scanning the horizon, I pressed the shutter with a single thought on my mind: '
please, just once, let me capture this moment exactly as it is
.' When I pulled back my camera and pressed review, I wasn't disappointed. There it was: the blue face of Monacobreen and the mountains which rose up through its center (these are called Nunatak, by the way), with the entire landscape shrouded in sleepy fog. Pleased with my success, I crossed my fingers and took almost one hundred more
before I even left the ship to see it up close
.
After breakfast, we loaded into zodiacs at the stern of the ship and pushed away. Our guide steered us through the reaches of Monacrobreen's icy fingers and straight into its beckoning arms, and I found myself breathless at the glacier's frosted face. All around us, the bergy bits crackled like Rice Krispies in a bowl of milk and were occasionally drowned out by the sound of the monster itself: the glacier rumbling from deep within its core. Every time Monacobreen groaned underneath its own weight, our eyes peeled across the landscape to find the breaking point and we were delighted as it calved in front of us again and again.
Our guide occasionally stopped to pull glass-like ice boulders from the water and pass them around as we cruised through the ice field in gentle pursuit of the bearded seals which call it home and marveled in the sheer size and unbelievable beauty of the glacier. Seemingly immune to the cold - the more the air bit at my cheeks, the wider my smile became.
This
was the Arctic, and it was unlike anything I had ever seen before.