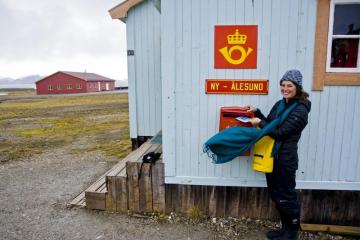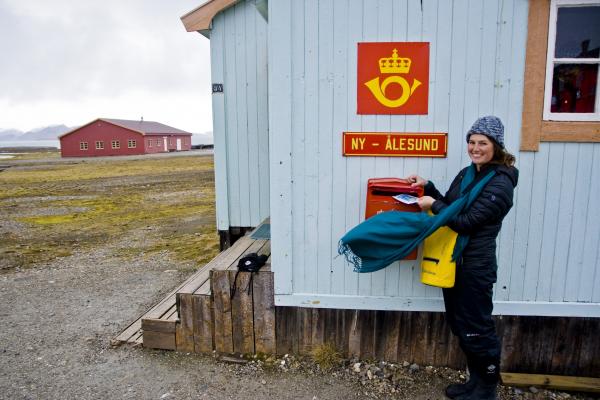 One of our last stops brought us to Ny Alesund: the world's northernmost community. Boasting a permanent population between 30-35 people (and up to 120 in the summer months), visiting Ny Alesund was strikingly different from the rest of our cruise. The first time in two weeks that we'd walked off the ship rather than taking a zodiac to shore, the guides enjoyed a moment of supreme amusement as multiple people showed up at the gangway wearing their lifejackets over their parkas. Molly and I rebelled against our penguin suits and exited the ship wearing down jackets (a decision we later regretted, by the way. Always, always wear your penguin suit. It's cold out there).
Originally founded in 1917 as a mining community, Ny Alesund now operates as a research base and houses fifteen permanent research stations. The point of visiting Ny Alesund was not for its scientific aspect, however, it was for its history. As previously mentioned, Svalbard is surprisingly historical. After being given a walking tour of the community, Sven, the ship's historian, led us to a giant metal mast. Explaining that the mast was the mooring station for the Norge – the first airship to fly over the North Pole in 1926, Sven filled our heads with stories of northern adventure and the perils they likely faced. Pulling my scarf over my face and shivering from the wind, I could only imagine what it must have been like to survive the harsh conditions with nothing more than woolen sweaters and long socks to keep me warm.
Following our tour, the passengers of the Sea Spirit were set loose to wander the town (while steering clear of the insides of buildings). Despite our free reign, most of us battled the wind and made our way back to the post office – the northernmost post office in the world. Having bought my postcards in Longyearbyen and written them during our day at sea, I skipped the frenzy in the gift shop and postmarked my written souvenirs before sending them off.
Though I ultimately arrived back home long before any of my postcards did, knowing that several pieces of my Arctic journey were still circling the globe made me extremely happy. The happiness in sending my postcards, however, was greatly surpassed the day I opened my mailbox to find that two of them (addressed to my husband and not to myself) had made their way back into my eager hands. I begrudgingly handed them off to Forrest, who read my words with a smile before giving them back to me. "Take them to work and hang them up," he told me. "They're from
your
happy place, not mine."
<3