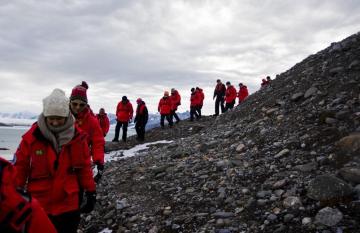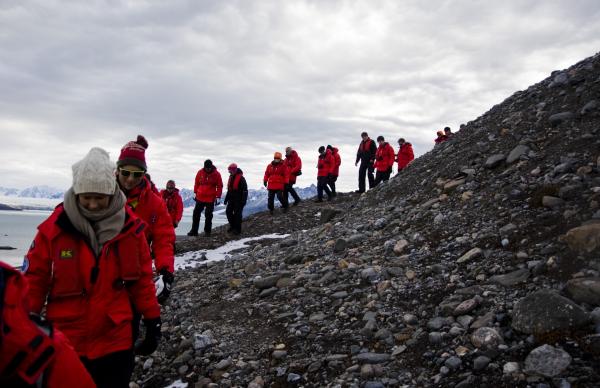 Fact: Regardless of what Coca-Cola would like us to believe, penguins and polar bears do not co-exist. As I child, I believed the commercials which depicted the two species meeting up and sharing icy bottles of soda at Christmastime. In my adult years, I learned that Coca-Cola lied to me. Penguins and polar bears live as far away from one another as you could possible imagine, and even if they
did
happen to share the same ice floe, you can bet that they would not get along.
That being said, I'll admit that I felt very much like a penguin while completing our circumnavigation of Svalbard. One of many perks of traveling aboard the
Sea Spirit
was the fact that they provide parkas for each of their guests – and that we got to keep them! The parkas - red, warm, and basically waterproof – were an important staple that I couldn't have imagined sailing without. Molly and I came to lovingly refer to them as our Penguin Suits, as they provided an additional layer of insulation and overall warmth. Never having been to Antarctica to witness the grand scale of a penguin colony for myself, seeing my fellow red-clad cruisers dot the Arctic landscape made me smile and wonder if the two sights would look at all the same.
The answer is most certainly
no
– I'm fairly positive that seeing thousands upon thousands of penguins is much different than seeing 99 red dots spread out over a few miles.