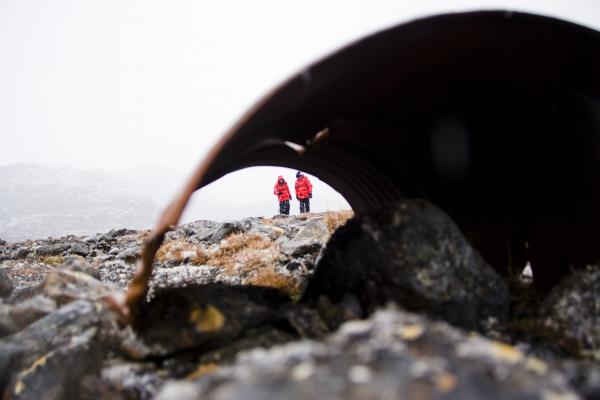 I'm a bit of a history nerd. I devour biographies and historical miniseries and have been known to spend hours pouring over museum exhibits. While I knew that much of the Arctic's early years were rooted in the whaling industry, I was surprised to learn that whaling was just the tip of a long and fascinating history of Svalbard. I was even more surprised when I got to experience so much of it for myself.
Much of Svalbard's coastline is dotted with its past: The mast to which Amundson moored the airship Norge prior to becoming the first man to reach the North Pole still stands in Ny Alesund. Beluga bones frame the beaches of Bamsebu and an old whaling station stands eerily by. Walrus bones fringe the tundra at Kapp Lee. Beached and wooden ships lie in wait for the ghosts of sailors past at Skansbukta, and a rusting train overlooks the remains of Camp Mansfield - the town which used to bear its name.
One of my favorite historical sites, however, was found at Signehamna. Already having identified myself as a history nerd, it's important to know that World War II holds my particular interest. I never imagined that the Second World War would have left its mark on Svalbard, but the realm of fighting stretched even to the most remote of its shores. Built behind a hill and tucked away from sight, Signehamna, a weather station originally erected by the Germans, has been reduced to nothing more than a pile of rubble: rusted barrels, rubber boots, and trunks long beyond repair.
Bombed by the Norwegians upon its discovery, the remains of the station were abandoned by its survivors and left to quietly rust away. While much of the site has been looted over the years, what remains is a somber reminder that history is waiting to present itself to anyone willing to find it, even in the most remote corners of the earth.