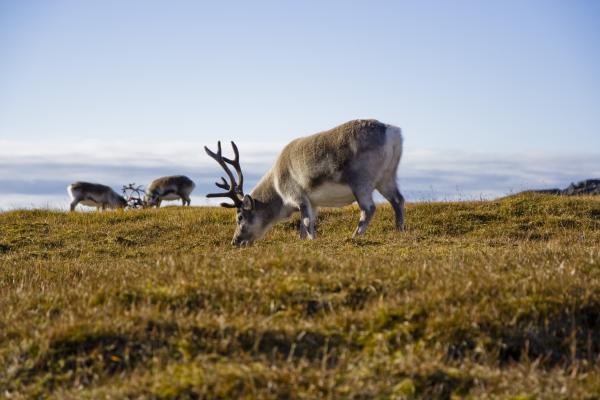 When it comes to wildlife, the Arctic has its own
Big Five
: Polar Bear, Walrus, Whale, Fox, and Seals. I'm pleased to report that we saw them all.
**Our first sighting of Svalbardic wildlife (not part of the
Big Five
) came in the form of three reindeer who watched us carefully as the enjoyed their mid-morning snack of moss and late-season flowers. We stood (almost) silently as a group – the clicks of our cameras disrupted the peaceful surroundings but little else did.
**Our second sighting: WHALES. And not just any whales: Fin whales! We had been told upon the beginning of our cruise that 2016 unfortunately hadn't been a good season for whales. The temperatures of both air and water was off and, as a result, so were whale migrations. So, imagine our sheer delight when three fin whales, the largest in the ocean only after the blue whale, began spouting around our ship. One of our guides later told us that Fin Whales are uncommon in Svalbard. One of them had worked in the area for four years, and had only seen them once before.
**Our third sighting: Walrus. First, imagine 4,000 pounds of tusked blubber. Now imagine hundreds of them piled together. Our first sighting at Kapp Lee was that of a herd of about 7 individuals. Our second was closer to 200. After that, I lost track of my Walri count.
**Our fourth sighting: Seal. Spotted by our guide Dima as we zodiaced around Burgerbutka, the bearded seal dove beneath the ice and surfaced just shy of each zodiac - giving each of us a private show in turn.
**Our fifth sighting: Polar Bear. Not a single polar bear – EIGHT polar bears. Though none of them were close to the ship and all of them were best observed through binoculars, we saw eight. And that's exciting.
**Our sixth sighting: Fox. Normally the hardest of the
Big Five
to spot due to their natural camouflage and quick movements, the two foxes we saw scouting the edge of Alkhornet had just begun to transition from their summer browns to winter whites. As such, they stood out against the green canvass of landscape quite nicely.
I'm not normally a person who goes nuts over wildlife, unless they have flukes and blowholes and make me feel impeccably small. Maybe it's because polar bears aren't common or because walrus are... well... walrus, but I loved every moment of wildlife-watching in Svalbard.