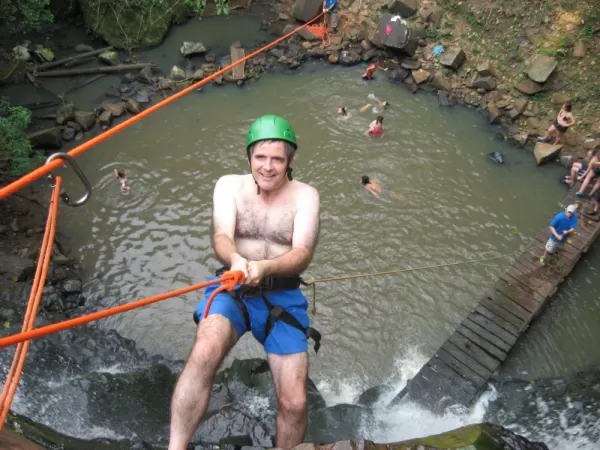 Since we weren't scheduled to leave Iguazu until noon, we walked into town and took a look at all the souvenir stores. The daily downpour drove us into a store for long enough that we bought a Yerba Mate gourd and drinking straw as a souvenir for our son Chris.
Off to the airport and on to Buenos Aires where we changed planes. We stopped for a cup of coffee and ran into friends from our church -- how surprising! It turns out that Rich was planning on attending Steve's conference also, and he and his wife Susan were headed to Iguazu Falls for the weekend. Such a small world -- and we decided to get together in Buenos Aires the next week.
We arrived in Salta, in far northwest Argentina, and discovered that our baggage had only been checked to Buenos Aires. A quick check to confirm that our bags would be delivered the next day, a cash payment to cover incidental expenses, and we headed off into the city with our guide, Gustavo.
Hotel del Virrey, a small hotel in the city center, was our home for two nights. We enjoyed walking a few blocks to the main area of restaurants, and had a great late night dinner (steak again!)