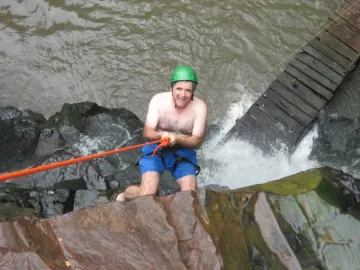 The environment and geography of Salta couldn't be more different than what we experienced in Iguazu Falls. We moved from humid, overgrown jungle to arid, mountain landscapes.
Gustavo met us at the hotel, and we enjoyed a morning walking tour of the old city. First stop was the old covered market, where we saw a large variety of vegetables and every imaginable kind and cut of meat. We saw bags of coco leaves, which can only be purchased in bags totaling less than 1 kilo. It's chewed as a digestive and stimulant! The center square retains much of the Spanish colonial architecture, and the old churches, houses and balconies all looked like something right out of Spain. It was lovely.
Gustavo dropped us off at the entrance to the gondola ride up to the top of the nearest "hill," where we had a great perspective of the city and its location in the valley surrounded by mountains. We had lunch at the restaurant at the top, and spent the rest of the afternoon exploring the city on our own. The highlight was visiting the museum dedicated to "high altitude archeology" and featured three Inca mummy children found in 1999 at the top of a nearby mountain. They were selected from high-ranking families in different areas of the Inca empire. It was considered a privilege to "go live with the gods" and they were buried alive (though drugged)with special artifacts meant to appease the gods. The museum was very well done but it was a little creepy to see the mummy on display -- a 7-year old boy, completely dressed and not looking like he died 500 years ago.
A rest at the hotel and then out to dine at the "Old Station" restaurant, where we had a chance to see a lively folkloric music and dance program while we ate. Sure, it was touristy, but we enjoyed it all the same.
And yes, our luggage arrived!