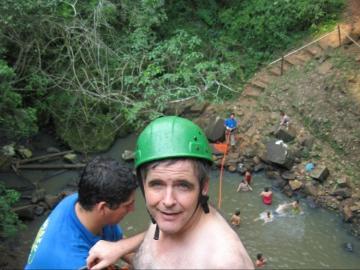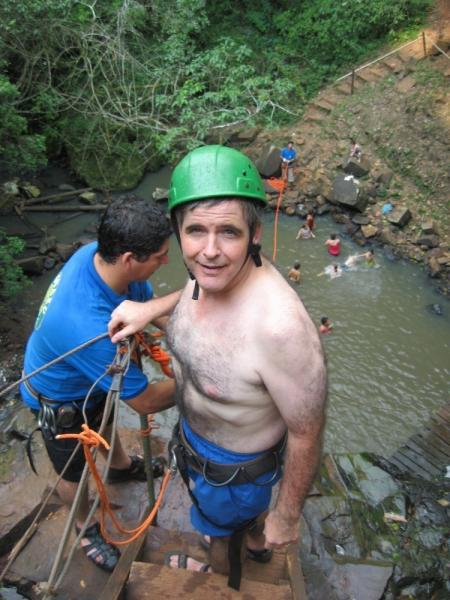 Cesar collected us bright and early to get to Iguazu Falls for a day of exploration. First we rode a tram-train to hike out over water on a walkway to see the enormous Devil's Throat falls, which was simply breathtaking. Not only were the falls spectacular, but we really enjoyed watching all the swallows fly into the mist to catch insects, then fly back into their nests along the cliffs. We began to see exotic birds and lots of fantastic butterflies -- and learned that by standing still, the butterflies would land on us! We also took our only good look at Brazil on the other side of the river!
Cesar led us to on the Upper Circuit walkway, explaining about the plants and birds -- and we just missed seeing a toucan that flew off. It was fun to see so many varieties of plants growing wild that we only usually get to see as houseplants. And of course, the falls -- all of them -- were truly spectacular! We've never seen anything so big. I think they're almost two miles wide.
The Lower Circuit walkway took us down to the river's edge and gave us an entirely different perspective - looking up. We then boarded a pontoon boat for a quick ride up close to a few of the falls and everyone got caught in the warm spray. Great fun.
We rode down the river through some rapids and ended the ride with another jeep ride through the semi-tropical forest. We learned about the Palmito tree and how it's illegal to cut them down in Argentina to harvest the delicious "hearts of Palm" because the process kills the plant. Elsewhere in S. America these trees are grown on plantations and the harvest is controlled.
Back for a shower at Iguazu Jungle Lodge, then a 10 minute walk into town to dine at Aqva, a great little restaurant recommended by our guide. At his suggestion, we ate Surubi and Pacu, two local river fish, which were yummy.