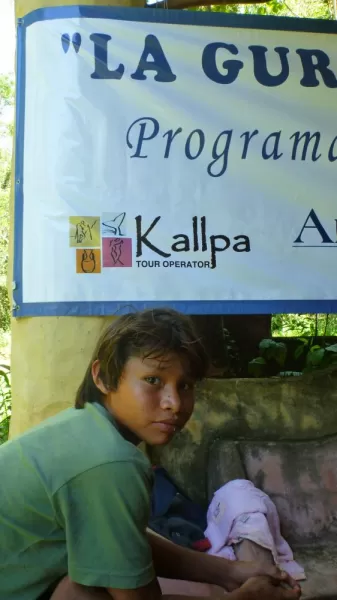 During the year 2012 Kallpa Tour Operator, Adventure Life and Yacutinga Lodge have decided to join forces for a series of environmental educational workshops for the rural Guarani Community Kagui Pora located in the Municipality of Comandante Andresito in the Argentine Province of Misiones.
These unusual activities are intended to present the environmental problems the Paranaense Forest suffers to the Guarani children in order to achieve a better understanding of this unpleasant and unfortunate situation, which undoubtedly affects their roots and customs.
The Guarani Community Kagui Pora, which neighbors Yacutinga Lodge, has been suffering for years the negative impacts produced by the indiscriminate development of the natural environment, which has sheltered them since ancient times.
The impact caused by the deforestation in the area and the consequent loss of biodiversity causes irreparable damage to Society as a whole and particularly to the indigenous Communities, which must necessarily adapt to these drastic changes and demands.
This new condition of life forces our Guarani brothers to understand their own trans-culturization process. This is the reason we decided on these ''educational days'' aiming to understand together the threats of the desertification of the Jungle floor, humus loss and waste generation.
Our goal is to gather information on proper handling of household waste, the importance of water conservation and soil fertility of the Jungle and value the environment that provides a healthy service to every inhabitant of this ecosystem.
Yacutinga Lodge organized these ''educational days'' with the active contribution of the Guarani Community Kagui Pora and the volunteer students to Ranger: Debra Aguero, Colo Valente and German Alonso.
Many thanks to all of them for their passion, companionship and affection provided in order to reach the goal of our educational program ''La Gurisada y el Monte''.