Celebrate the art of relaxation in a haven of understated luxury, craftmanship, and character at Ka'ana Resort, tucked away in the lush Belizean forest. Belize is an adventurer's paradise, with majestic forests and a robust history at every turn. Guests who are fortunate to encounter Ka'ana Resort will enjoy the luxurious amenities, gracious attention to detail, and the warmth of the hospitality.

The resort features well-appointed accommodations, numerous dining options to select from, and an extensive array of adventures to suit every traveler. Nestled in a valley surrounded by the Maya Mountains of Belize's Cayo District, Ka'ana Resort is the premier choice for discerning travelers.

Services and Amenities Guests will encounter the full spectrum of services upon entrance to the lush grounds of Ka'ana resort. Upon arriving to Ka'ana, enjoy a welcome with a local beverage tasting in the extensive wine cellar with the general manager and on duty staff. Here first experience the warm hospitality of Ka'ana and begin to explore the adventures that lay ahead.

Amenities include:
- Complimentary Wi-Fi throughout the resort
- Complimentary guest computer at reception available 24hrs
- I-pods available for complimentary checkout - Handicap accessible accommodations and ramps available throughout the property (upon request)
- Tour Desk to assist in further tour planning
- Room Service available during restaurant hours
- Same-day laundry services
- Ironing services
- Twice daily and upon request housekeeping
- Nightly turn-down service
- Night Security
- On-site registered nurse

Invigorate your senses with the on-site swimming pool. Spend a lazy afternoon beside the infinity pool while listening to the sounds of the lush forest around you. Pool-side service from Le Ceiba restaurant is available, or simply soak in the cool waters and enjoy the finest Belize hospitality available. The resort offers every conceivable activity in the area from private bike rides to epic caving adventures, all of which can be done on a private basis. Mayan ruins, nature trails, jungle tours, canoeing, tubing, zip-lining and horseback riding are just a few options for guests at Ka'ana. For more information regarding these options, please explore the link above. The resort also features some of the finest cuisine to be found in Belize. Several options await your decision for where and how to enjoy your culinary adventures each morning and evening. Please explore the link above for additional information regarding exquisite dining opportunities.

Sustainability As part of an industry in a country committed to making a low impact on the environment and local culture, Ka'ana is committed to ensuring that development and growth have a positive impact on the local environment, its people and its visitors. The resort believes they have been gifted to be located in a region that holds a unique and strong culture and heritage, and it is their mandate to tribute, honor and protect this. One of the greatest advantages at Ka'ana is the proximity to the local towns of San Ignacio, Santa Elena, Succotz and Benque as well as the many touring attractions available in Western Belize. Ka'ana was created using locally crafted woods, art and music and they are proud to offer many truly local experiences.
Rooms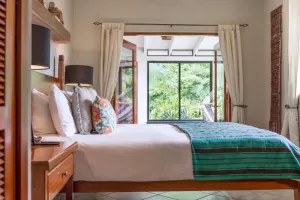 Balam Suite
300 square feet (28 square meters) of interior space. Our five graciously appointed Balam Suites are nestled in a luxurious, hacienda-style home. Each with a private entrance and lovely outdoor sitting area overlooking the pool or tropical gardens, these intimate rooms have everything you need to feel revitalized and ready for the adventures that await.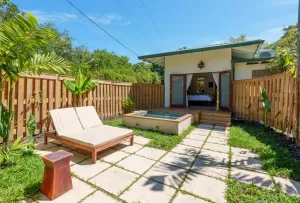 Master Suite
700 square feet (65 square meters) of private space. A private space with individual front and back decks. An enclosed garden and private outdoor shower allow you to enjoy the luxuries of Ka'ana while surrounded by the wilderness of the jungle.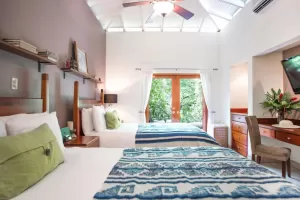 Casita Suite
400 square feet (37 square meters) of interior space. Offering tropical garden views, our Casita Suite strikes the perfect balance between privacy and modern luxury. With spacious living spaces complemented by local textiles and art, these accommodations make you feel a world away yet right at home.
Adventures

Belize is an adventurer's paradise, with majestic jungle and monuments to a rich past at every turn. At Ka'ana, each tour is guided privately by an adventure specialist. Whether you're thrill-seeking, bird-watching, history-craving, or all of the above, a multitude of exciting excursions await.

Actun Tunichil Muknal (ATM) Cave

The Actun Tunichil Muknal (ATM) Cave tour begins with a trek that includes wading across three rivers. After 45 minutes, you arrive at the "Cave of the Stone Sepulcher," one of the most impressive caves in the Maya lowlands.

The ATM cave system consists of a series of chambers ending in a large cathedral, where sacrificial ceremonies once took place. Here lie those individuals sacrificed to the gods of the underworld, which was known as Xibalba (pronounced shi-bal-ba). Visitors to ATM have the opportunity to travel into the past and witness a living museum, where skeletal remains and artifacts can be viewed in their original context.

Tikal Maya Ruins

Tikal ("City of Echoes") is the largest known city remaining from the ancient Maya civilization and was considered the greatest metropolis in the Maya kingdom. Situated in Guatemala's largest protected area, a UNESCO World Heritage Site, it holds ruins comprising over 3,000 astounding structures set in 21 square miles (54 square kilometers).

Horseback Riding to Xunantunich

You'll begin your journey at Hanna Stables, nestled within 400 acres of lush, green farmland. From there, you'll make your way on horseback to the majestic site Xunantunich, where you'll explore ancient ruins, including Maya temples, with your personal guide. Next, you'll take in the sights and smells of the tropical rainforest as you picnic along the banks of the Mopan River before you meander back home.

Yaxha Sunset Tour

A 60-minute drive across the Guatemalan border takes guests to Yaxha National Park, where they enjoy a private, guided tour of this lesser visited, atmospheric site. Guests might encounter howler and spider monkeys as well as many colorful tropical birds and other mammals in this area, which is rich with wildlife. Drinks are enjoyed at the end of the tour, at sunset, atop the main temple, with views over the surrounding rainforest and nearby Lake Yaxha.

Helicopter Transfer

Take a direct helicopter ride from Belize International Airport to Ka'ana's on-site helipad. Along the way, pass over lush, protected jungle reserves and get a bird's-eye view of the Maya Mountains and their 1,000-foot (305-meter) falls. Your journey closes with an aerial tour of the ancient Maya city Xunantunich, just 1.5 miles (2.4 kilometers) from Ka'ana. Enjoy this thrilling way to witness Belize's diverse landscapes and environments.

Cave Tubing and Ziplining

For the cave tubing part of this adventure, after being outfitted with the necessary equipment, begin a 1-mile (1.6-kilometer) trek through subtropical trails, wade across a shallow portion of the river, and pass through two caves before reaching a stunning lagoon surrounded by steep limestone walls. Along the way, your guide will point out various exotic flora and fauna native to Belize..

Ziplining takes you soaring through the subtropical jungle canopy from treetop to treetop, giving you a bird's-eye view of the rainforest below. A thrilling adventure, there are five runs at heights ranging up to 80 feet (24 meters). The trip culminates in rappelling down the last tree to the ground for that final adrenaline rush.

Xunantunich Maya Ruins

The ancient Maya ruins of Xunantunich ("Maiden of the Rock," pronounced shoe-nan-too-nitch) are accessed by a short crossing of the Mopan River on a hand-cranked chain ferry. Held within the Belizean rainforest, this site includes Maya plazas, palaces, and temples, as well as a modern museum. Guests have the choice of getting there and back by car, or starting the tour with an hour-long horseback ride originating at the nearby Hanna Stables and finishing with a private picnic on the banks of the Mopan River. You may ride your horse or be driven back.

Barton Creek Cave

You arrive at Barton Creek Cave after an enjoyable drive across rivers, jungle trails, and orange orchards, and through the Mennonite community of Barton Creek; be sure to smile and wave at the horse-drawn buggies. Hidden within this small community are the remnants of an ancient Maya civilization, silently waiting to be explored in the cool, dark, watery underground caverns of Barton Creek Cave. The site was a center for ritualistic activities, including human sacrifices, fertility rites, and bloodletting.

Horseback Riding

Experience a departure from the traditional horseback tour when you visit the private ranch of Santiago Juan. Ride across an open pasture toward the bank of the Mopan River, led by your personal guide and ranch hand. An exciting river crossing takes you off the beaten path and on an eye-opening ride that reveals a slower way of life.

Maya Cooking Class

Part of Ka'ana's spell-binding magic is its deep roots in the Maya culture. Most of our guests are left with a sense of wonder at the rich history of the Maya people. If you can't get enough and would love to experience Maya culture in a unique way, let us to take you and your taste buds on a culinary journey!

Caracol Maya Ruins

The Maya ruins of Caracol (Spanish for "snail") are considered to represent the largest Maya city in Belize and are home to the biggest man-made structure in the country. Depart at 7 AM for an adventure deep into the jungle of the Maya Mountains, habitat to wild animals such as tapirs, jaguars, monkeys, toucans, and scarlet macaws.

Crystal Cave

Crystal Cave is one of the most exhilarating caves in the region. The initial climb through lush rainforest is steep and heart pumping. After a 60-minute hike, you arrive at the entrance of the cave; here, the real fun begins. You will descend up to 600 feet (183 meters) into a stunning cave system. Pick your way along sheer rock faces and slide down mud ramps. Littered with crystal stalagmite and stalactite formations, the chamber called the "cathedral" is mind-blowing. If you are up for this physically demanding excursion, it will be a high point of your caving experiences in the Cayo district.

Ceramic Making in San Antonio

The San Antonio Women's Group still makes ceramics by hand. It is a time-consuming process requiring great concentration and precision. These artisans will demonstrate the "coil method," and you will be able to try your hand at creating something of your own. Following this, make corn tortillas on a traditional fire hearth. Learn about the process of grinding the fresh corn and transforming it into "masa," the dough that is formed into tortillas.

Big Rock Falls

Drive into the Mountain Pine Ridge Forest Reserve and away from civilization for an intimate experience at one of the most breathtaking sites in western Belize. Led by your adventure specialist, hike down to a waterfall and climb over boulders as you enjoy the best swimming spots and a private picnic.

Bird Watching

Belize is home to the rare orange-breasted falcon, and this expedition will take you to one of only 13 locations in Central America where you can witness this magnificent bird in its natural habitat. Your guide will also explain the medicinal uses of the plants on the trail as well as point out a plethora of interesting birds, wildlife, and flora, including numerous species of orchid that grow abundantly in the rainforest.

The Belize Zoo

The Belize Zoo, located an hour from Ka'ana en route to Belize City, is a unique stop for animal lovers. Here, one can see more than 125 types of animals that are native to Belize. The zoo is set around 29 acres of tropical savanna, providing a natural setting for the wildlife living there. Visitors learn about the unique qualities of these creatures as well as the importance of protecting their natural habitat.



Facilities

The Resort at Ka'ana

Inspiration comes alive at Ka'ana, a luxe outpost where wandering spirits roam free. Nestled deep in the tropical jungle of western Belize, our boutique resort is an oasis of style, culture, personalized service, and modern amenities for well-seasoned adventurers and tastemakers alike. Our location on the doorstep of an ancient Maya city has inspired Ka'ana's name, which means "Heavenly Place."

Spa - Rest and rejuvenate.
There's nothing more rewarding than unwinding physically and spiritually. The Spa at Ka'ana features local, organic products. It offers guests the opportunity to experience the mystic energy of Belize through traditional spa services as well as holistic Reiki healing and local specialty treatments like Maya Abdominal Massage.

Yoga - Rise and shine and downward dog.
We offer yoga at a variety of locations on the property and nearby Maya temples, we'll find the perfect spot for your vinyasa flowing.

Pool - Take a dip on the wild side.
An oasis in the jungle, our pool with sunbathing terrace is a welcome place to take it easy after a day of adventuring.

Organic Garden - Green initiatives and greener thumbs.
At Ka'ana, delicious food and our relationship with the environment are top priorities. We've brought these two loves together in our gorgeous two-acre organic garden, which inspires our chefs and supplies them with the freshest ingredients.

Events - Culture comes out at night.
At Ka'ana, we regularly host happenings after sundown to inspire guests and educate them about local customs, cuisine, and history. Explore traditional food at Maya Night, learn from a person deeply rooted in the community at History Night, or get a lesson from our on-site mixologist at Destination Cocktail Night.

Accommodations - Luxury in the Jungle

Our villas and suites have been thoughtfully designed to provide the ultimate in luxury while integrating the property's natural beauty. You'll find clean lines and modern amenities paired harmoniously with sumptuous Belizean textures and textiles. Whether you're planning a romantic escape or an adventure abroad, you'll always feel at home at Ka'ana.
Master Suite
Casita Suite
Balam Suite
One Bedroom Private Villa
Two-Bedroom Private Villa

Food & Drinks - Authentic Belizean cuisine
At Ka'ana, we feed your appetite not only for adventure but for fantastic cuisine. From local, seasonal dishes to artisanal cocktails, our food and beverage program is designed to satiate and inspire.

La Ceiba Restaurant
Inspired by the many farms surrounding the property, La Ceiba Restaurant is celebrated for its farmhouse design and chef-driven menu. Featuring local and international cuisine, our full-service dining room pays tribute to seasonal ingredients, most of which are sourced from Ka'ana's on-site organic garden.

The Wallace
At The Wallace, you'll find a jungle-casual atmosphere with an artisanal twist. Our mixologists take pride in crafting inventive cocktails as well as refreshing variations on classics for you to imbibe as you lounge fireside in our courtyard. Come by for a pre-dinner libation and local tapas ("pedasitos") or for a nightcap to toast the day's

Wine Cellar
With great food comes great responsibility, which is why Ka'ana is proud to have the largest wine cellar in western Belize. We thoughtfully curate world-class wines exclusively for the enjoyment of our guests, focusing on small-production, New World selections.

Inquire
Our guide and driver were very good with their knowledge and were very helpful with our questions. It was a very pleasant visit that would have been impossible to do on our own. Hotels and restaurants were fantastic. The special places we got to go to, like the kitchens, were great. Enjoyed the entire trip!
Meyer Smolen