Lamanai Outpost Lodge is surrounded by an incredible variety of habitats that facilitate unsurpassed nature-based and soft-adventure activities that depart right from your cabaña's doorstep without the need for day-trips. The nearest full-service lodge or hotel is over 70 miles away. Unlike many other lodges who share the same area and attractions, Lamanai Outpost is very much in a world of its own. Whether you are exploring the Maya ruins or watching nature awaken as the sun rises over Crab-Catcher Lagoon, it is almost guaranteed that it will be just you, your guide and a few friends that you have made at the Outpost. At most jungle lodges the more popular activities involve what are called day-trips. In plain English this means that you spend a large portion of your day in a vehicle as you are driven to and from the desired attraction. At Lamanai Outpost you can choose from the country's largest range of fully guided soft-adventure experiences that start right from your cabaña's doorstep and do not require day trips. The average guest at the Outpost embarks on two activities per each night's stay that are included in the package price. Be it by keeping its number of cabanas below 20 or by limiting the number of guests on a tour to between 6 and 10 participants, Lamanai Outpost Lodge is totally focused upon the quality of your jungle experience. Our average activity departs with 4-6 guests. Lamanai Outpost is one of only a very few of Belize's jungle lodges to have been repetitively featured on shows such as Wild Things, Discovery, Animal Planet, National Geographic Explorer and World Gone Wild. Voted Belize's Hotel of the Year for 1999/2000, the Outpost is consistently utilized by high-end travel companies and is widely recognized as one of Belize's finest jungle lodges.

Lodge Amenities - All scheduled meals included - Two activities per nights stay - Transfers from Belize Airport - Coffee, Tea & Cocoa bar nightly - Happy hour snacks provided - Internet access via lodge's or personal laptop - Wake-up call service

Accommodations Lamanai Outpost has twenty double Cabanas • Most have one queen size bed and one double bed • Some are designed to accommodate triples and families • All have hot and cold private bath • All have mini-fridge, veranda and more than adequate shelving and storage space • Although there are only two air conditioned rooms (Cabanas 16 & 17), natural ventilation is excellent. All Cabanas have high output ceiling fans and there is a prevailing breeze that comes in from the lagoon.

Dining • All meals are full service • Vegetarian and other specialized diets are routinely accommodated with prior notice • The lodge employs a fixed menu; varied choice for breakfast; two course lunch; three course dinner. All include bar service and bakery items • Dining concerns are accommodated. • Our meal plan consistently receives excellent guest comment and is considered a strong point of the Outpost. • Some of the activities involve meals in the field; all are high quality and delivered full service style.
Activities

Embark on a night crocodile-encounter aboard a Florida style airboat; experience a tropical breakfast on a jungle river; explore a long abandoned Maya city or simply relax in a hammock overlooking a spring fed lagoon - all within walking distance of your cabaña. Small groups, personal attention and most importantly, no day trips required!

JUNGLE DAWN
As dawn breaks and the mist rises through the canopy, explore the jungle as it awakens. In the company of a naturalist guide you'll learn about the intricacies of a habitat that is home to creatures as diverse as the jaguar, the impressive Black Howler monkey, the Jaguarundi and the vividly-colored Keel-Billed toucan.

SUNRISE CANOE EXPEDITION
Strike out across the lagoon in exploration of Dawson's Creek and its surrounding tributaries. Keep an eye out for manatees, otters, crocodiles and endemic parrots to name but a few. Sure to thrill the nature-loving side of all who participate in this adventure.

LAMANAI MAYA RUINS
In the company of an expert guide explore the mysterious jungle-shrouded temples of this once powerful 3000 year old civilization where nature and ancient history coexist. The ruins of Lamanai encompass over 700 structures, a visitor's center and museum.

MAYA MEDICINE TRAIL
As the only resource for medicinal aid, indigenous people have long used a wide variety of local plants for their powerful and effective medicinal properties. Unlock the secrets and learn first hand how basic potions and salves are prepared and used to this day in Belize's jungle villages.

SUNSET COCKTAIL CRUISE
There can be no finer way to end the day than on the New River Lagoon surrounded by tropical forest and wildlife with a well-stocked cooler, snacks and your own personal bartender as you watch the sun disappear below the treetops from a 30 foot pontoon boat. Drinks not included.

NATURE WALK
Enjoy a nice walk around the lodge and reserve to observe nature at work; butterflies, orchids, and the wildlife.

SPOTLIGHT NATURE SAFARI
After dinner, climb aboard one of our comfortable custom built river safari boats and head out into the night. This exciting adventure gives you the opportunity to encounter anything from the Morelet's crocodile to the elusive and endangered jaguar. All this plus close up views of some of Belize's fascinating river birds as they roost on the water's edge make this a not-to-miss adventure!

NIGHT WALKS
Experience the jungle under the evening stars or by the light of the moon. Listen as the owls and bats come out to hunt and gather, and the troupes of Howler monkeys speak to each other across the canopy. Sounds come from everywhere as many species such as frogs and tarantulas, other mammals and species of birds thrive in the late hour of the evening. Specialized Adventures The following activities can be specially booked, but due to scheduling they cannot be pre-booked but rather booked at lodge upon arrival. Additional costs may apply.

NATIVE FISHING
Fishing becomes a cultural adventure when it's done jungle-style. You'll catch live bait using the local bottle method and use the most basic of equipment. Paddle out along the banks of the lagoon with a local fisherman and settle into a quiet cove to land Big Mouth Bass and other local species.

HOWLER MONKEY TREK
Observe troops of Howler monkeys as they start the day foraging high in the jungle canopy. Babies cling tightly to their mother's backs under the protective gaze of the dominant male whose call can be heard for miles. Learn about the species' lifestyle, social dynamics and infant rearing practices.

SUNSET AIRBOAT SAFARI
Board one of the custom built Florida style airboats for an exciting trip into the New River floodplains; cocktails, snacks and nature watching over sunset. Drinks and snacks included.

CROCODILE ENCOUNTER
Travel by airboat into the surrounding floodplains and observe and even assist if you wish, as one of the naturalists endeavors to capture, collect data and expand understanding of the endangered Morelet's crocodile. Something that most people only see on television!

NIGHT SPEAR FISHING
Travel by pontoon boat to a choice fishing location, strap on a headlight, board your canoe and go night spear fishing with a local expert.

BIRDING EXPEDITIONS
With almost 400 species documented within a 3 mile radius, Lamanai Outpost Lodge is definitely Belize's premier birding location. Habitats range from vast wetlands and broadleaf forest to pine savannah and all are easily accessible by boat, trails, vehicle or canoe. Guides will tailor your activities to access your target species in an environment where 200+ species in 3 days is far from unusual. The Spotlight Safari provides an amazing opportunity to see roosting waders, nocturnals and some of the more elusive diurnal species up close and personal. Regular sightings include the Northern Potoo, Yucatan Nightjar, Common Pauraque and Nighthawk, Grey-necked Wood Rail, Sungrebe and Agami Heron.
Inquire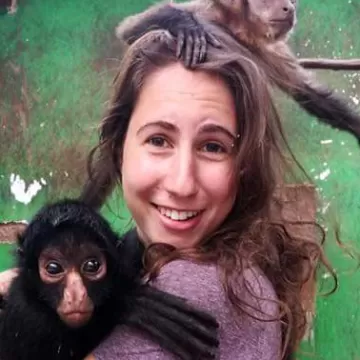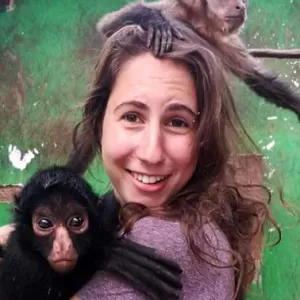 We Love to Talk Travel
Call
1.800.344.6118
or
Chat Now
Kate was great to work with in the planning stage. She was prompt, helpful, and efficient. Our tour guide, Edwin, was knowledgeable and passionate. We were very happy to have traveled with Adventure Life, it made the trip easy and a true pleasure. We could concentrate on enjoying the experience rather than the details of travel.
Lisa Bridge