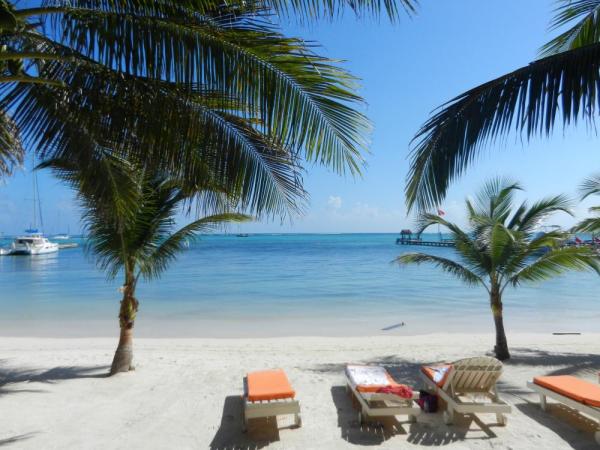 We set out in the early evening from Missoula, Montana. The temperature was a balmy 20 degrees and white sand beaches seemed like a distant dream. By 12 a.m. we'd reached LAX and were minutes away from our overnight flight to Belize. As the test pilots for the new Delta direct route to Belize from Los Angeles, we were overjoyed when a member of our group handed us drink passes and we kicked up our feet, sipped on a night cap and fell asleep 13,000 feet in the air. Around 5am I awoke to nothing but blue ocean beneath me, Belize was now becoming a reality. I took off the cold weather layers and readied my feet in Chackos eager for the touch of humidity and sun. After making the way through customs in Belize City, a 14 person chariot met us and swept us away to Ambergris Caye. A 15 minutes flight over the iconic waters of Belize seemed like the perfect way to start this 10 day adventure.
Fast forward two hours we're on board a yacht, cruising to Hol Chan Marine Reserve. I first had my doubs about the location, wondering if we'd truly see any memorable marine life as Hol Chan is the largest and most visited reserve in Belize. After diving into the water, I was soon swept away into my very own marine world and every doubt seemed like a distant memory. Sting rays, sharks, mulitcolored fish, eels, and even a green turtle danced around in the waters, oblivous or simplly uncaring of the two legged creatures swimming around them.
Disembarking felt like floating on cloud nine. My traveling partner handed me a Pina Colada and we sat on our beachfront deck until our group snagged some golf carts and toured the town of San Pedro. The best part about Ambergris is the fusion between local culture and tourism. You'll find no towering resorts or fake cultural gift shops and you never really know who is a tourist, who is a townie and who just decided to up and move to Belize for good.
Further North...at least I think it was North though my proclivity for directions is quite non-existent...there is a bar situated on a dock almost floating in the water. Here you'll find Ambergris regular vacationers who either own a vacation home on the water or are lucky enough to know a friend who does and a large shot-ski. Typically, I shy away from large processions and the cheering of onlookers as shots are taken, but hey- when in Belize. I highly recommend the Chocolate Cake Shot taken out of a wooden plank with three other people.
To close our first and last day in Ambergris, we had cocktails and appetizers at the Phoenix and retired to bed much too soon in order to prepare for the trials and tribulations of jungle life, Belize style.