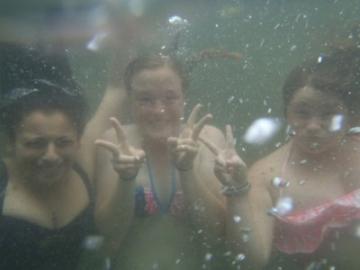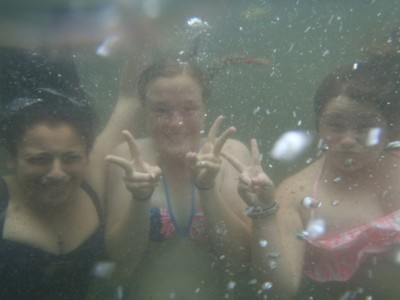 After breakfast, one of the Canadian college professors invited us to see what they had caught on their hikes last night. We were able to touch and/or hold a tree snake and a rhinoceros beetle. It was VERY cool! Alex, Lincoln, Chiara, Mitch, and Sasha let the tree snake slither up and down their arms! Snakes are NOT my favorite creatures!
Our 9AM rain forest hike was a very wet one (it poured down on us several times) but we all had rain jackets. We hiked (slogged) 1.5 hours uphill to 2 waterfalls. It was slow going and everyone had to grab rocks or trees to steady themselves. Luckily, when the trail became really treacherous, there were ropes or handrails made from logs for us to grab onto. That really helped! By the time we got to the 1st waterfall the rain had stopped. YEAH! Just above the 1st waterfall, but up steep trail, was another gorgeous waterfall. Most of us swam in the pools at the bottom of both waterfalls. The water was much cooler than the river water we swam in yesterday. The kids jumped off rocks into the deep part of the pools at both waterfalls, but only after Mike jumped in first to be sure it was safe and there were no hidden rocks!
In the 1st waterfall pool, I was concentrating on photographing the kids in mid flight jumping or diving off the rocks, when I felt something bump into me. I looked down and saw a 4 inch crab floating in the water. Luckily, I did not scream or I am sure everyone would have fled the water. I just asked if anyone wanted to look at a dead fresh water crab. Of course, the boys were interested!
To get to the upper waterfall, we had to hike up a very steep and rugged trail. The arduous trek was worth the effort just to see the large pool and waterfall! The pool was really nice to swim in and the students had a blast jumping off the rocks! Getting out of the pool was a bit dicey so some of the group opted to stay on dry ground. I took some great mid flight photos!
The hike back was MUCH better as it was mostly downhill and it did not rain. We still had to watch our footing as it was slippery!
2PM. 10 of us (Sasha, Jazzi and Nicole stayed back), paid $2.50 and rented inner tubes to float down the river near our compound. It was fun! The river was low in parts so we had to pull our 'tushes' up high to avoid hitting rocks. In the very low areas, we had to get out and haul our inner tubes to deeper water before climbing back in.
Five of us went on a night hike: Lincoln, Griffin, Monica, Chiara and myself. We saw several interesting creatures: black scorpions, millipedes, night hawk birds (they sit on the ground at night and catch insects), lots of spiders, toads and frogs. We also went off the main trail and down a short trail to see the remains of a plane that crashed in the 70's or 80's. This is where the Canadian students found the 8.5 foot Fer de Lance the night before. NOT MY idea of where to go for a night hike but the kids wanted to go check it out! NO SNAKES tonight! Yeah!
Sleeping arrangements were slightly better tonight. Only Ryan and Jazzi slept in the van. The rest of the girls split up into the 2 rooms after searching them carefully for ANY creatures.