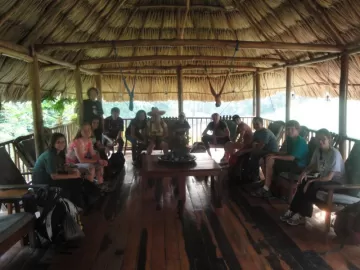 Only 4 students opted to go to the orphanage today-Kelsey, Chiara, Sam and Nicole. The rest decided to go to the construction site. Still very HOT and HUMID today!
At the orphanage there was less cleaning and chores to do. Mainly we babysat and entertained the very cute younger kids (under 5).
Construction crew comments:
Sasha says: 'We worked so hard at the construction site that we were bathing in our own sweat!'
Jazzi says: 'I have never seen so many rocks in my life and we had to move them all!'
We left the orphanage by 2PM and immediately went to the ice cream store. Everyone was so HOT!
Once we arrived back at Pook's Hill Lodge, most of the students took off for the Red Cliff swimming hole to cool off.
Tonight several of us will head out for our 1st nighttime jungle hike to see all the creatures that scurry around at night. Should be a different experience.
Tomorrow should be about the same at the construction site and orphanage. We will stop at a local crafts market on the way to the orphanage to shop for souvenirs.