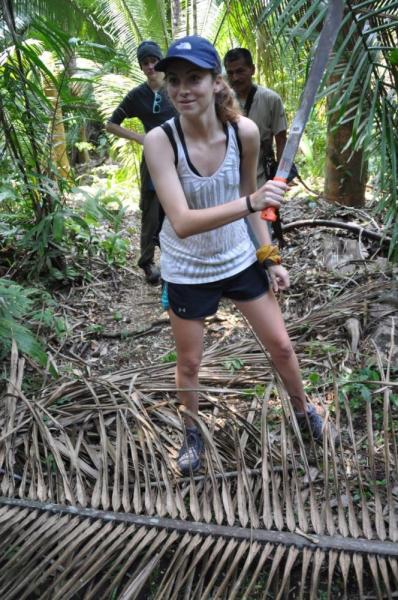 Only Ryan, Mitch and I went on the 9AM jungle hike. They wanted to use their new machetes to help clear the trail. Mike (Miguel) gave them major pointers and they were happy campers. We saw more wildlife on this hike than we did on the hike we did on Day 2 when there were 13 of us. We saw a red headed woodpecker (it made lots of noise pecking away on a tree), a Toucan, a vine snake (very THIN and long-it just stayed in place for the longest time), an Agouti (Mike saw it and we just heard it as it ran away), a kissing bug (UGLY and I would NEVER kiss it!) and a Heliconus butterfly. The 2 boys really liked hacking away at branches in the jungle with their new machetes! One of the best parts of the hike was drinking water from a cut water vine. The boys cut the vine all the way through with their machetes. Then each of us held the cut end over our mouths and allowed the pure water from the vine to drip into our mouths. It tasted great!
At 11AM we drove to the grocery store and bought 75 boxes of juice for the kids. Next, we went to the pizza restaurant to order 16 pizzas. We decided to eat our pizza at the restaurant as there is not enough room at the orphanage for us to sit down and eat with the kids. The staff and kids at the orphanage were so happy with the pizza and juices! They RARELY get such a treat as it is too expensive for them to purchase. There was NOT one juice or piece of pizza left over!!!!
All the Pacific Ridge students had a blast playing one last time with the kids after lunch.
'Mama', the main person that runs the orphanage, was VERY grateful to us for the great job we did at the orphanage and the construction site. She thanked me at least 4 times today. She also was extremely grateful for the toys and gifts we brought to the kids.
1:30PM. Off to the Belize Zoo. The zoo was very fun but there were several areas of the zoo still closed to the public. In Oct. 2010, Hurricane Richard caused extensive damage to several of the zoo enclosures. Luckily, the enclosures for the 5 types of cats (puma, jaguar, ocelot, jacaranda and margay) found in the Belizean jungles were open. We were able to get up close to most of the cats! The poor cats were very sluggish and panting due to the heat!
After our zoo tour, all of us went to the gift shop to get drinks and souvenirs.