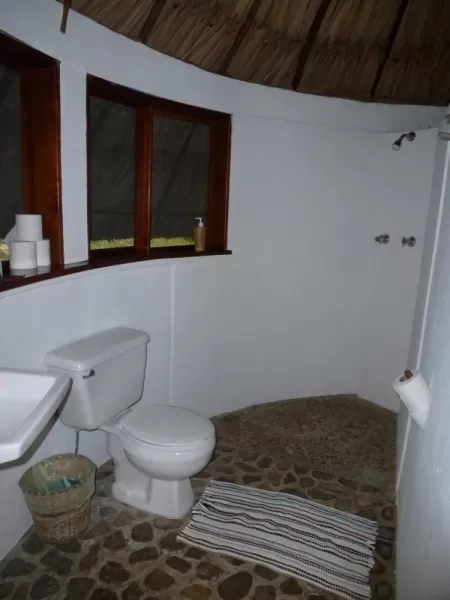 7AM departure. UGH! LONG and rough drive over dirt and gravel roads. First, we visited one of the largest caves in Belize, the Rio Frio Cave. The students climbed all over the rocks at the cave. Great pictures were taken of the group.
After our long drive, several of us HAD to use the local facilities-a very 'rustic' and spider/ant infested out house. Not the best facilities but we survived! Luckily, we had our own TP with us.
Next stop- Mayan ruins at Caracol. We looked at 3 plazas and all of us climbed up 137 feet to the top of one temple. We have pictures to prove it! By the time we got to the 3rd set of temples, where archeologists found the cremated remains of some Mayans, EVERYONE was ready for a break and lunch (breakfast was 6 hours ago). We had a very nice picnic lunch at some tables by the entrance to Caracol Park. It was nice to sit down for awhile!
After lunch, we swam in the many and varied pools at Rio On Pools. It was a blast! We needed to cool off. The rocks at Rio On Polls were very slippery due to the algae that grows on them and we had to really watch our footing climbing on the rocks. I think most of us slipped and fell at least once. There was a really cool small waterfall that all of us sat under and allowed the water to blast over us.
There were also some small water slides that all of us slid down. Some of the rock slides were quite shallow so you would scrape your tush on the algae infested rocks. After one particular slide, Kelsey and Chiara found little black worms in their swimsuits. Miguel said these little worms live in the algae. Of course, ALL of us HAD to check our suits when we got back to the van! We were all worm free! Yeah! In spite of the worm issue, we all had a great time and are looking forward to our 'make your own burrito' dinner.
Tomorrow we leave for Cockscomb.
The students are all fine and having a great time!