Today Matt and I took separate tours.  He headed out to scuba with a group along the reef and I headed inland on a hike to Mayflower waterfalls.  The hike was pretty intense and having come from an arid climate I melted in the humidity.  However, I had a wonderful time.  It as very invigorating to hike through the mud and rough terrain.  There were places where you had to pull yourself up the muddy slopes on a rope.  At the end of the hike there were the falls and a large pool to dip in.  It was so refreshing and woke me up from the haze of humidity I had fallen into.  
The hike back down was very pleasant as well and when I returned we were able to see our new room for the next couple days.  They led us down a trail out the back and through the jungle until we came upon our treehouse.  It was such a beautiful house on stilts.  I thought at the time that the house was larger than several apartments I had lived in over the years.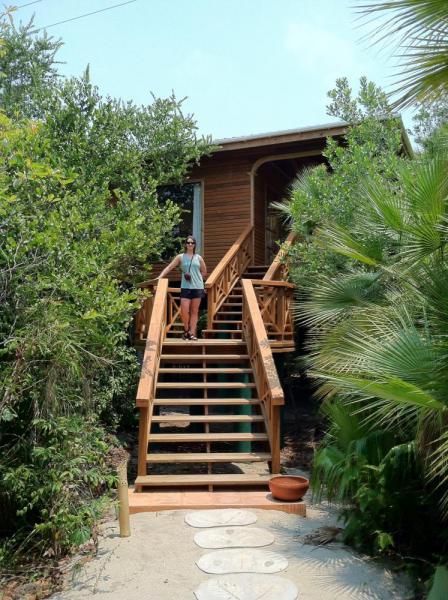 The bathroom had a double vanity and double shower.  The entire square footage of it was more than our bedroom at home.  All the tables and nightstands were covered in fresh flowers.  I also really appreciated the eco-friendly approach that they took for just about everything at Hamanasi.  The soaps were all biodegradable and they place reminders around your room to turn off the lights and AC when going out.  
Another thing I really enjoyed during our stay was the way every staff member would introduce themselves by name and know you by name.  It felt very personal and I wondered how they did it with new people arriving every day.  I felt that special care even more the following day.  I typically get sick at least once when traveling and it was my day apparently to do so.  I had an upset stomach to say the least and spent most of the day in bed. Matt told me that all the staff had asked how I was doing and sent their well wishes. I missed out on the snorkeling excursion that day but having to stay in our luxurious treehouse was not too bad.  I was well and recovered by the afternoon - able to keep down a special broth the cook had prepared for me.  I spent the rest of the time reading in a hammock on the dock.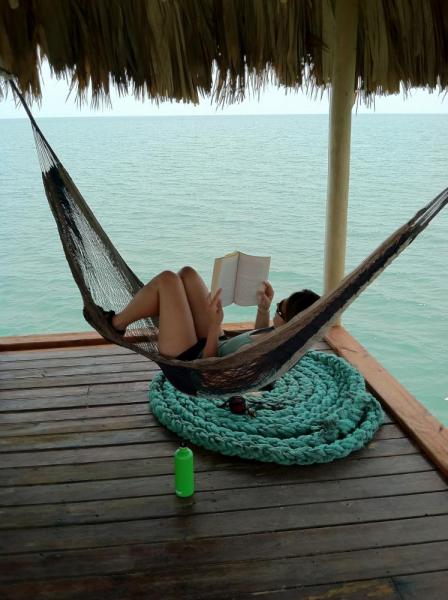 Yep life is not too bad in paradise. . . even when you're sick.