We were sad to check out of the Blue Tang because it was such a short stay and the hotel was such a nice place to relax. The staff was wonderful as well - Allen and Fanny in the office were excellent and helped us with all our questions. We went into San Pedro to a Cuban coffee shop. Excellent espresso and breakfast. Right before we left for the airport, we went to get pupusas from Wuranga's - which was recommended to us by Manuel at Victoria House. Unfortunately, it was closed but the pupuseria across the street was open so we pick some up there. Everything in San Pedro is very close. It was about a ten minute walk from there to Blue Tang and then a 5 minute taxi ride from there to the airport, which is right in town as well. Then we began the puddle jumping from Ambergris to Belize International Airport then to the Belize City Municipal Airport and on finally to Hopkins where our transfer to Hamanasi was waiting.
We took a bumpy road to Hamanasi but the trip was definitely worth it once we arrived and they lead us to our room.  The told us that they receive a lot of honeymooners who stay in the suites and I could see why.  The entire room exuded beauty and tranquility.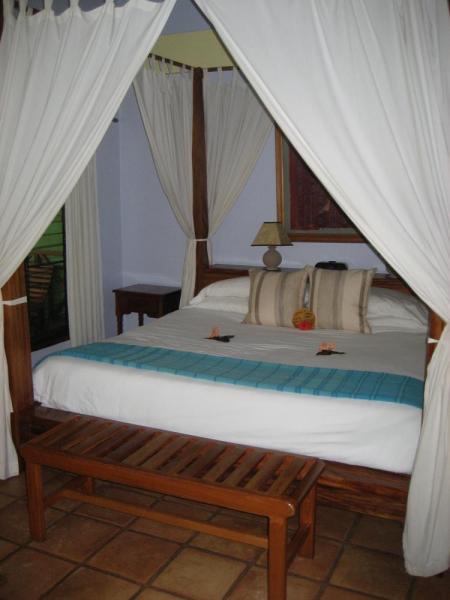 That evening we dined at the restaurant and they had garifuna dancers performing to traditional songs.