Friday, May 20th
Today we woke up early for our 7 o'clock departure to Tikal in Flores, Guatemala.  I was amazed at the coordinating effort that Pook's takes in order to make it a smooth ride for travelers.  We were introduced to Mike (Miguel) our guide for the day.  He drove us to the boarder where we parked the car, went across the boarder, which took a grand total of about five minutes, and we met by Murphy, our driver, on the Guatemala side.  
Passing to the other side, you notice a difference automatically.  Everyone is speaking Spanish, cab drivers are coming up to ask you if you need a ride and there's a different smell in the air - a mixture of local cuisine, smoke, and the Mopan River up ahead on the road.  Murphy was very courteous and animated.  I tried out my rusty Spanish on him because he didn't speak any English.  He clapped and smiled at us we he heard my "Si, hablo un pocito Espanol."
And we were off.  We stopped at a gift shop along the hour and 45 minute drive.  They have free coffee out front which I sampled and the taste of good Guatemalan coffee was divine.  It ironic that most of the country drinks instant coffee, an effect of colonialism in which all the quality coffee was exported and the mediocre beans remained for the locals. Another difference that you notice as soon as you cross the boarder is that poverty is a lot more extreme in the country.  We chatted with David and Kat later in the evening and they said one of the benefits to citizens living in Belize is that no one needs to be homeless.  The government will give a plot of land to anyone without a place to live.  That is why you do not see homeless people as you travel around.  They are able to do this because they have a small population.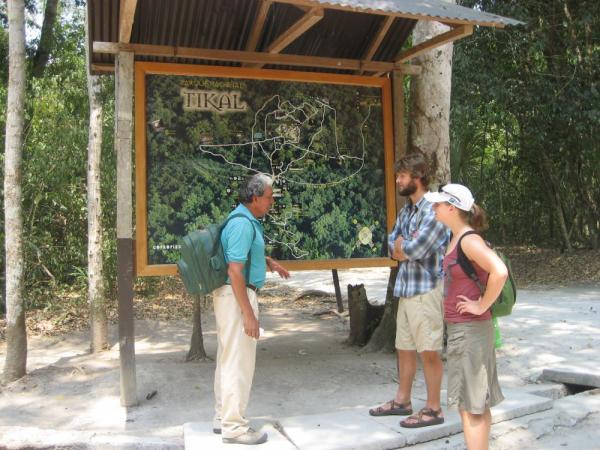 We arrived at Tikal around ten in the morning and Mike took our lunch requests for later and introduced us to Francisco, our Tikal guide.  It is required that a Guatemalan guide do the tour for groups.  Francisco told us that he had been guiding probably longer than we had been alive.  By the end of the tour we felt very lucky to have him and thankful for his knowledge and wisdom about the site.  He not only told us about the wildlife, ruins and history of Tikal, he also gave marital and life advice.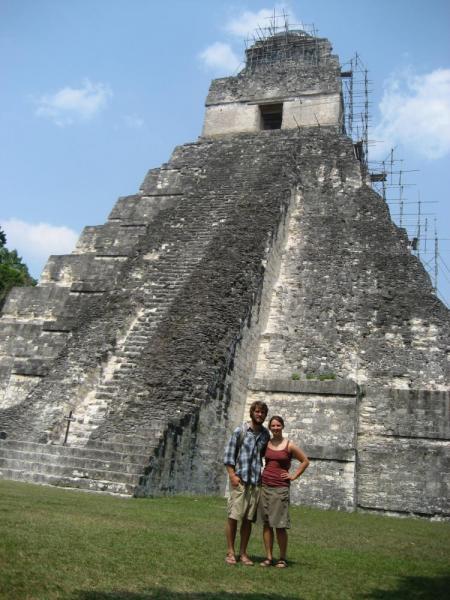 We walked around the ruins for four hours and only felt like we had just begun exploring Tikal.  It could take months to look at all there was to see, but we at least got a peek.  He cautioned us again about the ending of the world in 2012 that the Mayans had predicted, pointing out that it was not a naive prediction but a carefully calculated observation of the world around them.  We had lunch around two and quickly walked through the souvenir shops before heading back.   All around in was a very good day!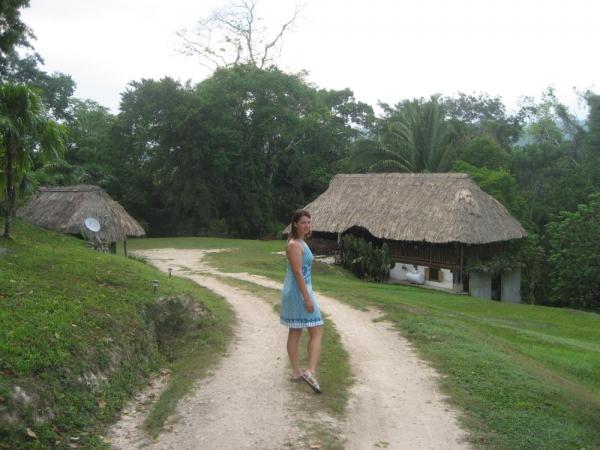 Saturday, May 21st
We woke up this morning at Pook's and were sad to leave but so thankful for all the things we were able to see and experience while staying there.  Truthfully, one could spend a few days just exploring the wildlife on the grounds. We had breakfast and David came to say goodbye to us.  Francisco took us the hour and a half trip into Belize City for our international flight.  At the gift shops in the airport we purchased our last minute gifts including a couple Belize t-shirts and Belkin mugs.  It worked out perfectly because we had just enough Belize currency to cover the purchases.  Our departure fee of $39.25USD was also covered in our Delta tickets so we didn't have to purchase that as well. But it was also good to know that we could have paid with our visa or mastercard if we didn't have enough cash.
On the plane ride back we went over all that we have done in the last two weeks and it was extraordinary!  Such amazing places we had seen and such wonderful people we had met.  Belize was a magical experience for us!