It is such a relief to arrive into Belize City without a hangup on our international flights! Every time I've traveled in the last seven years internationally, there has been some sort of delay or malfunction. Besides our seven hour layover in Salt Lake, it was a smooth ride!
We stepped off the plane, down the stairs, and onto the tarmac, a wave of warm air hitting and welcoming us at the same time. Immigration and customs were a breeze. There was already an air of calm and relaxation as travelers grabbed drinks and food before taking off in the tiny puddle-jumper planes for Ambergris Caye. They boarded the plane according to weight and three of us ladies were smushed together in the back bench seat by the tail. We decided to take it as a compliment.
In San Pedro, we were greeted by a representative from Victoria House and whisked away in a golf cart down the road to the hotel. After checking in, they gave us an introduction to the lay of the land. Then we got busy. . . doing nothing! We lay on the beach and soaked in the long forgotten sun, having come from the rain, snow and sleet of Montana springtime.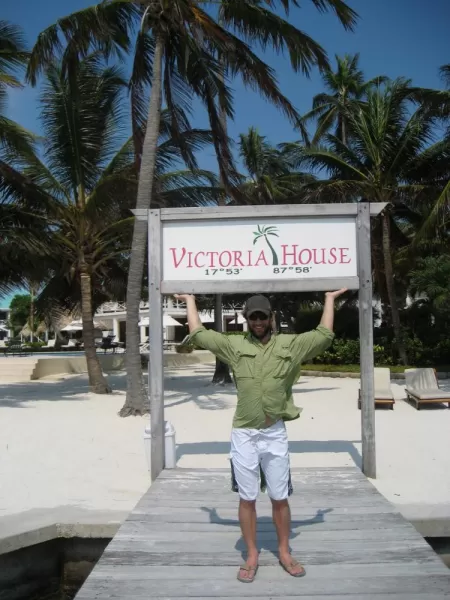 That evening we walked down the road to Pepperoni's Pizza, hidden on the side of the road about a 15 minute walk up the road from the hotel. They had a nice, basic outdoor seating area with wooden benches. It was the best pizza Matt had in a long time he said. Halfway through the meal I noticed that my legs were itching and being bitten by bugs or mosquitos or sometime. I had about ten or more bites that swelled to dime-size red bumps, but it was a small price to pay for being in paradise.