Ambergris Caye is a busy little island. The streets are constantly bustling - but not with a lot of cars. The main forms of transportation on the island are bicycles and golf carts! While there are a few cars - particularly taxis, there are HUNDREDS of golf carts and bikes.
Xanadu is fantastic and offers free bikes for guest use, and they also offer golf cart rentals. You can rent one for a half day, full day, or a week. If we had planned to get out more and hit the local nightlife, it would absolutely be worth it to rent a golf cart. While the island is only a couple of miles long, there are no sidewalks in a lot of areas, and walking (or pushing a stroller, in our case) was a little treacherous at times! Especially when we tried to make the walk into town for dinner, returning after dark!
Not only is walking not convenient, but once you are even just one block in from the ocean, the breeze that makes the shoreline SO lovely is completely gone - and for Montana folk like us who are coming off a dry, cold winter, that island heat and humidity really got us! Our poor kids (who were just riding in the stroller, mind you) looked like they had run a marathon! We are definitely not cut out for island heat!
There are a ton of great little restaurants, ice cream joints and neat places to check out, and with a golf cart, you create your own breeze and shorten the travel time to just a few minutes in each direction!
If you're staying on the half of the island north of the airport, the main strip of town is shut down to traffic (even golf carts) during busy season and on weekend nights - so during that time, pedestrians take over and enjoy full run of the road!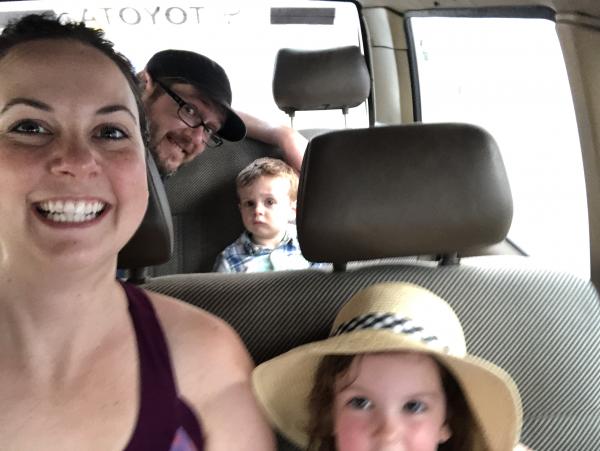 And if you don't want to rent a golf cart or hop on a bike, taxis are reliable, cheap and readily available, as our children quickly learned!
Whether you decide to hop on two wheels or four, it's easy to make your way around the island!