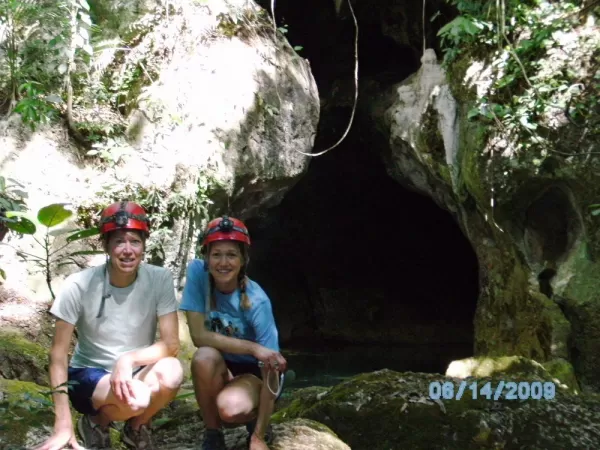 This morning starts with a hearty breakfast. We have a strenuous day ahead of us. We get to know our fellow travel mates and I look forward to getting to know them further.
Once our breakfast settles we head out on the adventure. We walk about 2 hours on a gravel road that winds through the jungle with river crossings until we reach the entrance of the cave.
I am floored by the pristine beauty of the cave. This is a picture you would see on a post card. Once we get a safety briefing and learn the history of the cave (I have actually met the first Archeologist to discover and uncover the ruins inside the cave), we are on our way.
We start out by swimming in the mouth of the cave and then it is dark. I am glad we have headlamps and helmets. I have so much adrenaline for what lies ahead.
The trip inside takes us about an hour and a half. On our way to the main cathedral, we climb over rocks, swim and traverse cave walls. Because of rocks under the water, we work as a team to help each other navigate the terrain.
With one last climb up a large boulder, we reach the main cathedral. The rest will be for you to find out for yourselves. All I will say is that the experience is so spiritual and surreal. It is unlike anything you can imagine.
After we make our way out of the cave, it is time for lunch. The sandwiches, fruit and cookies taste gourmet after our strenuous adventure in the cave. While I did get cold in the middle of the cave, I am thankful for the wet clothes for the walk back as it is hot.
When we get to the lodge we all part ways to relax, shower and unwind. Mom and I grab a beer and sit on the porch. While the Belizean Belikin beer is not the best, it is an amazing reward after our day of adventure. Sitting on the porch, I am reminded of our family cabin in Montana...just different scenery...jungle instead of pine trees, humid instead of hot and dry, macaws instead of meadowlarks.
We decide to take our next beer in the room while we enjoy a much needed HOT shower. I feel weird getting cleaned up for dinner in the jungle but dinner by candelight seems slightly dressy so I manage to do something with my hair.
We arrive at dinner a little early. The owner Ray hands us a beer and sits down with us to enjoy some pre-dinner chips and salsa. We really enjoy visiting with him about the history of the lodge, how his kids grew up in the jungle and how they were able to do homeschooling in the jungle and go on to great Universities for college. Having a desire to live and work abroad, I enjoy hearing about how couples manage to live life out of the norm.
Dinner again is a wonderful meal. We all enjoy sharing our days excursion and learning more about each other. It is mom's birthday today and I had made prior arrangements for a cake. She is surprised when the staff brings out a cake covered in candles and we all sing 'Happy Birthday'. Mom of course is embarrassed but I know deep inside, so excited to be spending a birthday with so much action.
After dinner, we all retire to the common area where we enjoy an after dinner drink (mostly beer). Cat and David also sit and relax with us, only making them feel more like family. David grabs his guitar and serenades us the rest of the evening.
As the evening progresses, signs of a thunderstorm warn us that rain is inevitable. My mom is very very afraid of lightning. I am not sure how she will handle an open air cabana with a thatched roof. Luckily the storm is small and passes quickly. We fall asleep to the sound of rain falling on the thatched roof...very cool!