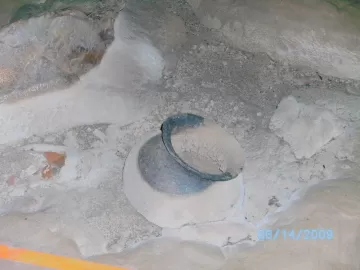 This morning we head to the Dangriga airport. There we catch our Tropic Air flight back to Belize city. These planes are 20 seaters and the pilot talks to you while you are flying. I have been in small planes before but they don't fly quite as low as this flight.
We fly up the coast line. It is cool to see the rivers dump into the ocean and see the shoreline. Upon landing, all I could think was "Gilligan's Island" We come in low over the trees and I thought for sure we were going down. Nope just standard procedure.
Mom has about 3 hours before her flight leaves so we grap some lunch and a beer. While we wait a huge storm rolls in drenching the runway. I am amazed that planes can land and take off.
It didn't occur to me until Kurt arrived, that he was on the flight that my mom was taking back to Dallas. He was delayed by about an hour so we missed our boat transfer to Turneffe.
It is so good to see him when he finally lands. I feel like it is our first date. It is the longest we have spent apart since we have been married. It was only a week but if felt like a month.
Turneffe's driver takes us to the marina where we will overnight at the Princess Marina. It is right on the water and the accommodations are okay but I am bummed that we are spending our first night at Turneffe.
We catch up on the week and I introduce Kurt to his first (and second) Belikin beer. Hearing his stories about our son...I start to miss him greatly. I know that the time with Kurt will go fast however and I try to hold on to having a relaxing week with him.