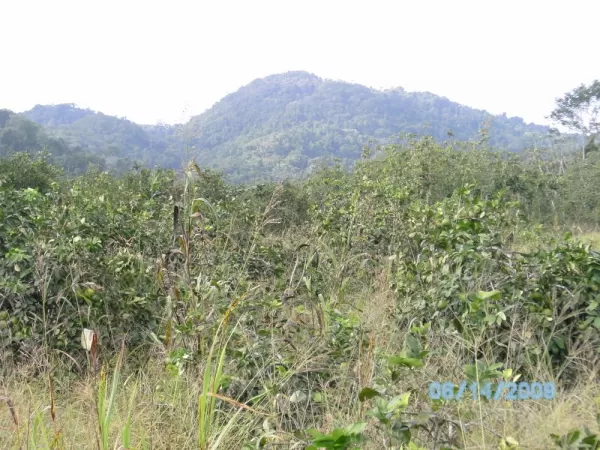 Every morning, I wake up pinching myself. This morning we awoke to the sound of birds singing in the distant trees.
We are leaving the jungle today. I don't know if I am more sad to leave this part of the trip or more excited to be on the beach. I think a little of both.
Ray has personally offered to drive us the 3 hours to Hamanasi. Time-wise, it was faster for us to drive straight there versus drive the 1 1/2 hours to Belize City, connect with internal flight and then drive another hour to the lodge. Plus I figured this was a great way to get a better feel for the country.
We head out at about 9 AM. After a stop for gas and beverages (very much like the C-stores here in the US surprisingly) we are on our way.
On your way, Ray goes through the capital of Belize, Belmopan. He shows where he and his wife first lived when they arrive in Belize. He also drives by the municipal buildings and explains a little bit about the Belizean government. I feel like we have our own personal tour guide of the country.
The rest of the drive we discuss politics in Belize, business at the lodge and how to improve it, schools in Belize and Belize's relationship with the US. It is wonderful to have such an in-depth look at the country...especially for just being on vacation.
At one point, Ray stops the truck and turns it off. We are pointing down a hill. When he shifts the truck into neutral and takes his foot off the break, we roll backwards. Yes that's right I said BACKWARDS, even though we should be heading forward based on being on a hill. Mom and I are floored! We think Ray now has some magical powers. He explains it is a magnetic field. Whatever it is, I am more in awe of this country.
When we finally arrive at the lodge, I am ready to get out of the car. We give Ray a hug as if he were family and thank him for his hospitality. He has truly given us a warm welcome to Belize.
As we are ushered to our rooms, I am surprised at how dead the lodge is. We were suppose to stay at Hamanasi next door but they were completely sold out for our dates due to Whale Shark season. Nonetheless, our room is gorgeous, we have a great view of the ocean and a nice balcony to take it all in.
Next, it is off for a beer. We are on vacation right!! We have a Belikin at the bar by the pool. The ladies that serves us makes small talk and we swamp Mom stories (her daughter is close to the same age as my son).
Since Hamanasi was not available, we will be eating most of our meals there and doing all of our excursions through them. We decide to take a tour of Hamanasi and make sure all is lined up for the week.
This is my first interaction with the staff. How wonderful! They are so kind and accommodating. We are directed to the manager who kindly gives us a tour of the lodge and explains how everything works.
After seeing the grounds and being here with the staff, I really wish Hamanasi would have had availability when we booked. It is gorgeous. Rather than clear cut everything to build the lodge, they actually tied back most of the tree branches and such to while they were in the building stages. The result is a lodge and rooms surrounded by vegetation and wildlife. As you walk from room to room you see lizards and butterflies and hear birds singing throughout. Truly paradise!
The rest of the afternoon we just hangout and relax. We decide to rent bikes and head into town. This turns out to be quite the adventure too. The lodge is about a 10 minute bike ride to town. The road is a dirt road and fairly easy to navigate. I feel like a kid biking in my hometown with my mom. Very fun.
We stumble upon a market so we can grab some snacks and drinks. I always have a difficult time in grocery stores in Latin America. They are so dark and seem so dingy compared to the US. I am very hesitant to buy my food from a poorly lit place where the food doesn't look quite as appealing.
We settle for some chips and salsa and some Kool-Aid type powder to put in our water for the next week. The lady that waits on us is Asian and I am so amazed at the diversity of the country.
Tonight we ate at Hamanasi. It is a gourmet meal complete with wine, appetizers, full course meal and dessert. Our waiter is pleasant and eager to learn more about us.
We have an after dinner drink at the bar and get to know "King" the bartender a little better. We also visit with some recently married couples on their honeymoon. After hearing the stories and the stress of the wedding, I again am happy I eloped!
Back at our room, we unwind on the portion as we take in the ocean breeze. Tonight we experience the first of many intense thunder and lightening storms.