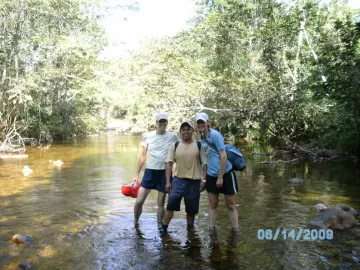 This morning we start with a nice refreshing breakfast of fruit, toast, coffee and freshly squeezed. When we are done, we head to the dock to board the boat.
Once all divers and snorkelers are accounted for, we head about about 30 minutes from the lodge. Here the boat drops us off and continues on with the divers.
The snorkel guide stays with some people who are just learning to snorkel while the rest of us head out on our own. I am fascinated by what we see. Parrot fish, angel fish, baracuda and more. We also manage to see a few jellyfish and which I later think maybe I got a little too close as my arm is red and sore.
When the guide joins us, he takes us to a couple more spots where we explore what lies beneath the water.
After a quick snack we head back out. Even given the amount of sunscreen we apply, we still manage to get fried. Oh well, tis the nature of vacation.
Today we eat lunch at the lodge and I am again impressed by the food. We have a salad and split a wrap. It is so refreshing and light.
This afternoon is spent trying to get in touch with people back home. I missed an urgent call from the office (I thought I was on vacation). I spend the next hour working (it happens to even people who help people plan vacations). And then get a chance to talk to my husband and son for the first time.
Okay now I miss them. I was doing really well but now hearing their voices, I miss them. But our son sounds like he is having a blast and learning so much in just the few short days I have been gone. It will be good to see them again!
Mom and I spend the rest of the afternoon hanging out on the beach and having a beer.
Tonight we go over to Hamanasi for Happy Hour and then play more games (bring a deck of cards) while we relax and enjoy the sound of the ocean.
Again we are awaken by the sound of lightening and thunder in the middle of the night.