Have questions? We're here.

Get inspired by the possibilities.
Change and customize this trip to make it yours.
Central America Expedition
Example 9 Day Cruise aboard Silver Explorer
Join the Silver Explorer on this 9-day expedition traveling across Central America from Colon to Guayaquil exploring the enigmatic land full of exotic plants, rare wildlife, and indigenous people, unburdened by modern life. After an exciting Panama Canal transit, set sail to discover this formidable wilderness. Yet even the Darien pales in comparison with Utria National Park; accompanied by experts, spend two full days exploring its beauty and mystery.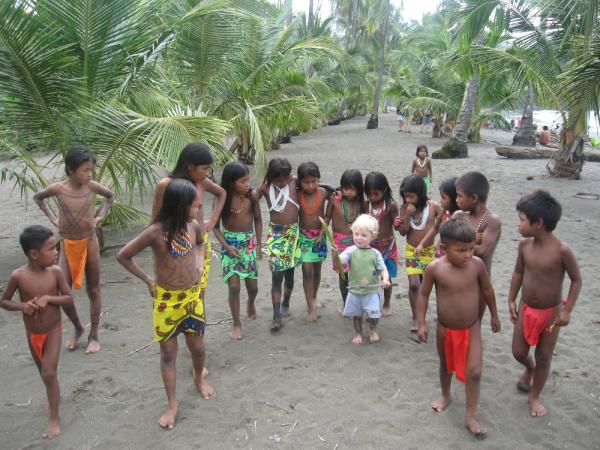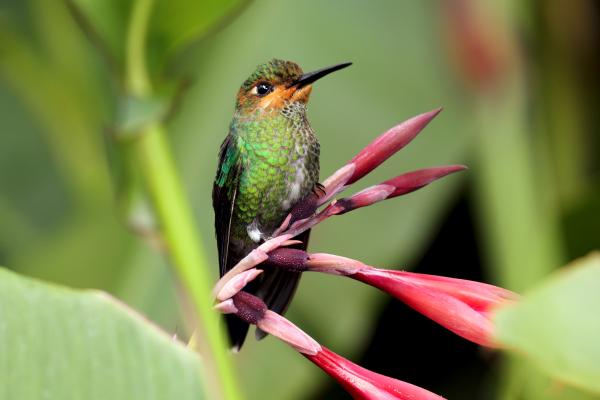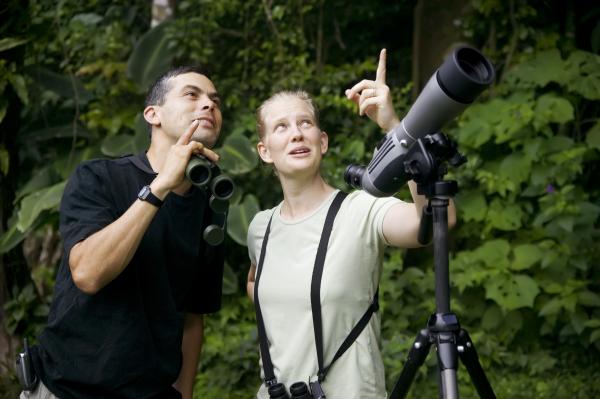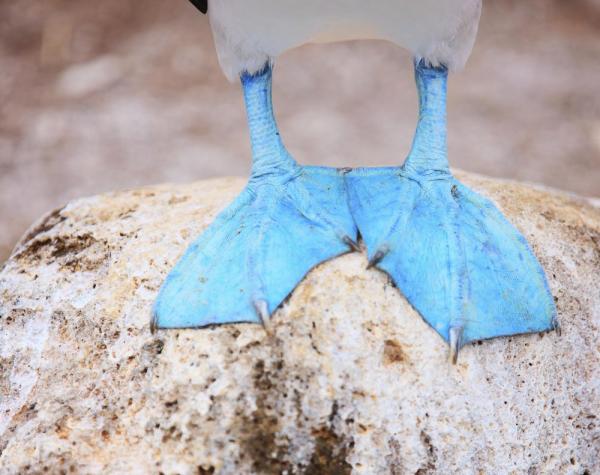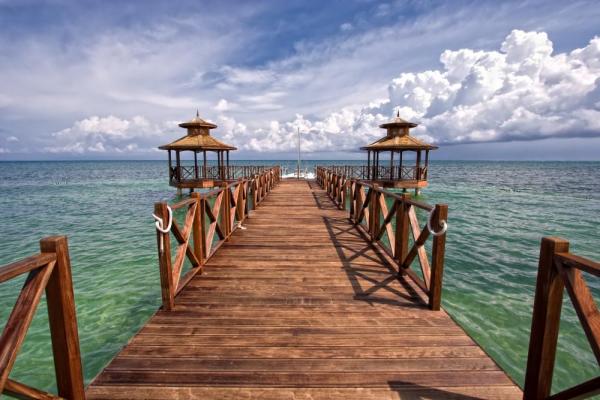 Board Zodiacs to explore the Emberá of the Darien Jungle
See the great variety of animal life in Utria National Park
Visit Gorgona Island's old prison or snorkel to explore the rocky coast
Enjoy bird-watching at the Buenaventura cloud forest reserve in Machala
Bahio Solano
Isla de la Plata
Isla Gorgona
Utria National Park
Full Itinerary
Expand All
Day 1: Colon | Embark
The provincial capital of Colón, beside the canal's Atlantic entrance, is named for the Spanish-language surname of Christopher Columbus, though the Americans called it Aspinwall in the 19th century. It was once a prosperous city, as the architecture of its older buildings attests, but it spent the second half of the 20th century in steady decay.
Day 2: Panama Canal Transit
1 Breakfast, 1 Lunch, 1 Dinner
The Panama Canal bisects the country just to the west of Panama City, which enjoys excellent views of the monumental waterway. Between the canal and the rain forest that covers its islands, banks, and adjacent national parks, there is enough to see and do to fill several days. Central Panama stretches out from the canal across three provinces and into two oceans to comprise everything from the mountains of the Cordillera Central to the west, to the Caribbean coral reefs and colonial fortresses in the north, to the beaches of the Pearl Islands in the Bahía de Panamá (Bay of Panama) in the south.
Day 3: Darien Jungle
1 Breakfast, 1 Lunch, 1 Dinner
The remote Darien Jungle has one of the most biodiverse ecosystems in the world. It is also one of the world's top ten birding sites, with the colorful Crimson-collared Tanager, Chestnut-fronted Macaws, and Snow-bellied Hummingbirds found here. Mammals include tapirs and Black-headed Spider Monkeys. In this roadless stretch of forest, rivers provide the best access. Visitors to the Darien Jungle are rare with fewer than 1,000 tourists visiting each year.
Day 4-5: Bahia Solano | Utria National Park
2 Breakfasts, 2 Lunches, 2 Dinners
Bahía Solano is located in splendid isolation; connected to the outside world by a single, small local airport. Tucked inside a bay, the small Columbian town is lined by the Pacific Ocean on one side and thick, impenetrable jungle flush with waterfalls on the other. The majority of the 10,000 residents work in local industries, which are predominantly fishing, agriculture, and eco-tourism.

Sitting on Colombia's Pacific coast is the lush tract of Utría National Park. From coral reefs and mangroves in the marine realm, to tropical rainforest and rocky beaches where sea turtles come to lay their eggs, few places in the world encompass the diversity of Utría's ecosystems. The forest here offers a choice of trails to explore. In addition to a wealth of wildlife, the park boasts several species of impressive timber trees, notably the area's beloved Cohiba tree and the Oquendo tree, which are used in the creation of local art and handicrafts.
Day 6: Gorgona Island
1 Breakfast, 1 Lunch, 1 Dinner
Isla Gorgona is a beautiful tropical island and a national park. Packed with lush green rainforest, palm trees and beaches full of black volcanic rocks, this little island off the Colombian coast was used by Pizarro and his thirteen followers before they eventually went south to inspect and later conquer Peru. The island is named after its plentiful supply of snakes, which might have been one of the reasons to utilize the island until the 1980s as a prison. Today only limited amounts of visitors are allowed ashore to explore the prison ruins, hike in the rainforest or snorkel.
Day 7: Isla de la Plata
1 Breakfast, 1 Lunch, 1 Dinner
Isla de la Plata translates to 'Island of Silver', and the name was derived from the legend of swashbuckling pirate Sir Francis Drake's buried silver treasure. The popular legend states that in the 16th century, hundreds of tons of silver and gold were never fully recovered and are still hidden on the island. The island was privately owned until 1979, when it was declared part of Ecuador's Machalilla National Park. Best known for its fauna, which is amazingly similar to that of the Galapagos Islands, Isla de la Plata is a delightful place for birding, photography and long nature walks.
Day 8: Machala
1 Breakfast, 1 Lunch, 1 Dinner
Several National Sanctuaries and Ecological Reserves found near Machala boast sun-drenched beaches and mangrove forests. Pelicans, frigatebirds, and egrets nest nearby as Blue-footed Boobies dive for fish further out to sea. Whales and dolphins can occasionally be seen in the vicinity. Machala, with a population of approximately 250,000 inhabitants, is moreover known for traditional Latin American foods from shrimp ceviche to fried bananas. In fact, bananas feature heavily in the culture as the city is also known as the "Capital of the Banana.
Day 9: Guayaquil | Disembark
The second major jumping off point for the Galapagos Islands after Quito, this is a little city with a big heart. A sea port first and foremost, the city's personality has been founded on that, and all the better it is for it too. Almost Caribbean in feeling, the clement climate coupled with the intermingling rhythms floating from the windows and abundance of fresh seafood make this a very tropical destination. Once not even considered by the travel books as a potential destination in its own right, the city has undergone something of a resurgence in the past few years.
Dates & Prices
Select a Date
Expedition Suite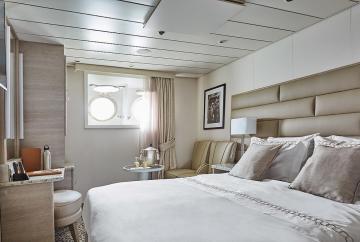 Select a Date
Adventurer Class
6 cabins on Deck 3, 180 sq. feet, Twin or Queen beds, 2 portholes.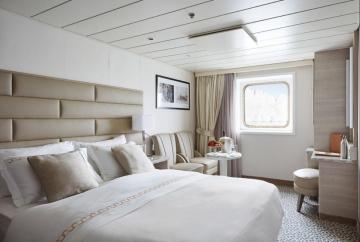 Select a Date
Explorer Class
4 cabins on Deck 4, Twin or Queen beds, 180 sq. feet with view window.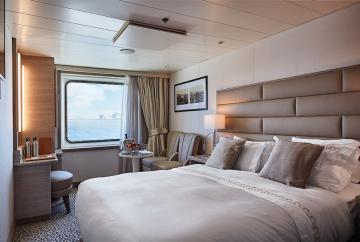 16 suites on Deck 4, 194 - 230 sq. feet with large window, Twin or Queen beds.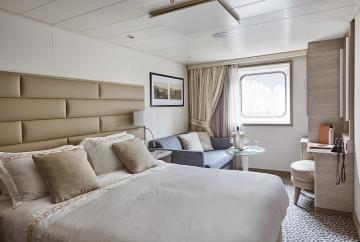 12 suites on Deck 3, 230 sq. feet with view window, Twin or Queen beds.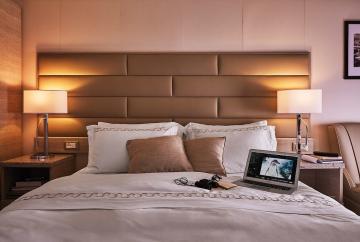 Select a Date
Veranda Suite
8 suites on Deck 5, 215 sq. feet with French balcony, Twin or Queen beds.

Select a Date
Medallion Suite
2 suites on Deck 7, 358 sq. feet with private veranda, Twin or Queen beds.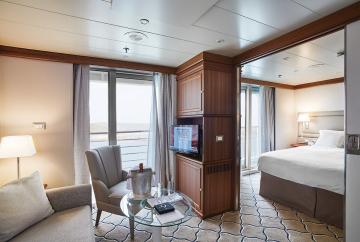 Select a Date
Silver Suite
6 suites on Deck 5, 430 sq. feet with 2 French balconies, Twin or Queen beds.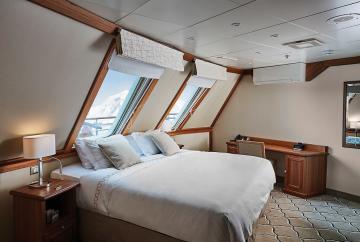 2 suites on Deck 7, 650 sq. feet with large private veranda, Twin or Queen beds.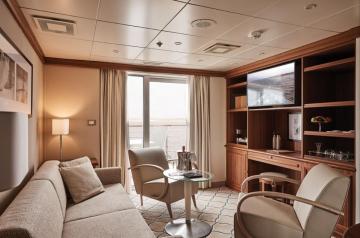 2 suites on Deck 7, 540 sq. feet with large private veranda, Twin or Queen beds.
Notes
Included in your cruise fare:
Personalized service – the best crew-to-guest ratio in expedition cruising
Butler service in every suite and stateroom – all guests are pampered equally
Open-seating dining options – dine when and with whomever you please
Beverages in-suite and throughout the ship – select wines, premium spirits, specialty coffees and soft drinks, plus your own tailored mini-bar
In-suite dining and room service
Enrichment lectures by a highly qualified Expeditions Team
Guided Zodiac, land and sea tours, and shoreside activities led by the Expeditions Team
Gratuities always included in your fare
One hour free Wifi per day for all guests. Unlimited free Wifi for guests sailing on select suite categories
Not included in your cruise fare:
Airfare
Optional hotel accommodation,
Transfers and luggage handling,
Fuel surcharges
Optional shore excursions
Meals ashore
Accommodation while ashore
Security surcharges
Any item or service of a personal nature such as casino gaming, laundry or valet services, purchases from the ship boutiques, childcare services aboard ship, massages, spa treatments, private fitness instruction, hair styling and manicures.
Some champagne, premium wine and spirit selections, caviar, cigarettes and cigars are not included in your fare.
Central America & Mexico Travel Links
Inquire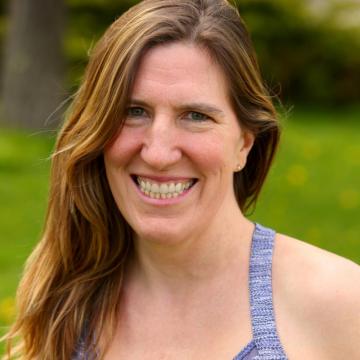 We Love to Talk Travel
Call
1.800.344.6118
or
Chat Now
Our guide and driver were very good with their knowledge and were very helpful with our questions. It was a very pleasant visit that would have been impossible to do on our own. Hotels and restaurants were fantastic. The special places we got to go to, like the kitchens, were great. Enjoyed the entire trip!
Meyer Smolen
Central America & Mexico Travel Guide
Favorite Central America & Mexico Tours & Cruises