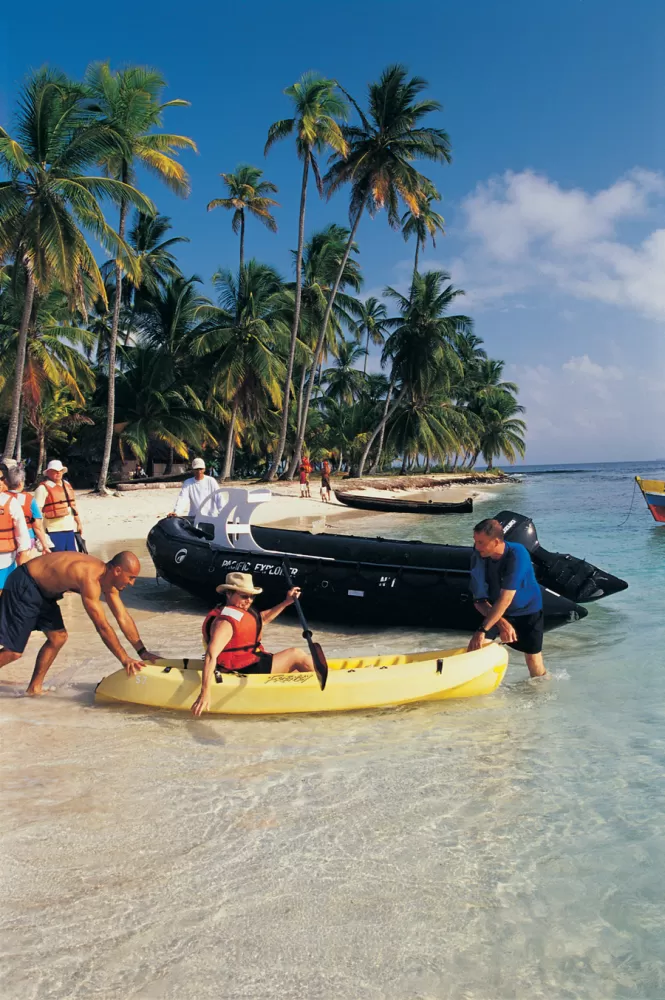 October 2007

Sarapiqui

Our first set travel day started in Sarapiqui, Costa Rica. After a windy road drive through mountains and past waterfalls on the side of the road, we arrive to flatter ground. First we stopped off at the Tirimbina Reserve to go for a chocolate tour and to cross the longest suspension bridge in Costa Rica. After walking along the trails, we arrived to the old cacau plantation area where we learned about how the seeds are processed to create the necessary cocoa ingredient in chocolate. Along the way, we spotted a blue morpho butterfly, a toucan flying by the Sarapiqui River, and a sloth sleeping in the canopy no more than one meter away from us on the bridge. Afterwards, we headed to our hotel for the evening. While the rooms are very beautiful, yet rustic, the whole area smells of strong humidity, something it seems that cannot be escaped when in the rainforest!

On to Tortuguero

After a good nights rest, we wake very early to head to Tortuguero. We meet up with the rest of the group at a restaurant along the way, and then combine with the others heading for the same lodge. We pass by some towns and soon are on a rocky dirt road that heads to Caño Blanco Dock, where we will meet up with our boat transfer. In the meantime, we pass by a huge Del Monte banana packaging plant, and stop to see the entire process since workers are there. The sheer quantity of bananas is fascinating, as well as the vast amounts that have to be rejected if there are any defects. We continue on another half hour to the dock and there board our boat to cruise the waterways towards Tortuguero Village. Along the way we are lucky and spot howler monkeys perched high in the canopy, many different kinds of birds (whose names I do not remember, due to the fact that I am not a birder), as well as a caiman sunbathing. After about an hour in the boat, we arrive to Tortuguero Village where we get out to explore the small town and learn a bit about the history here. It is now about 1 in the afternoon, and while it has been a long morning, we will probably not want to return later to see it, so we stop on the way.

We spend around 45 minutes in the village, then board the boat to go the rest of the way to Turtle Beach Lodge. This hotel, while located further north than most, is unique in that you have to go by much smaller canals to get there. It almost feels as though one is in the Jurassic Park ride at Universal Studios, except everything is real, there are not nearly as many "stuffed animals", and there won't be a huge rollercoaster drop at the end! We arrive to the lodge, are welcomed with fresh juice and shown to our cabanas. They are very clean, yet have a rustic feel to them – perfect for coming to explore the rainforest!

We decide to wander around the property and find that the coastline is on one side of the property with miles of sandy beach to explore in each direction. The pool looks inviting and the grounds are very beautiful and peaceful. After dinner and a quick nap, we head back on the boats to go try to spot a green turtle coming on shore to nest. You have to wear dark clothes and leave your flashlights and cameras behind. While the whole experience is a bit confusing (as we had 3 different language groups represented in our boat and the guides aren't always making sure to translate everything that is said) it was well worth the patience it required to see the huge green turtles laying eggs, burying them, and then returning to sea. We were here in min October, which while it is the dry season on the Caribbean giving us great weather, it was also the end of the turtle season so we weren't sure we would see anything. We sat most of the time waiting for the guides who were going up ahead to find the turtles and say it was okay to come. The turtles get scared if they see people/predators before they actually start laying the eggs, and then may turn back so there is a lot of waiting around for the turtle to dig the hole for the nest before you can actually go see them. The whole experience was amazing!! To watch a huge 300 lb turtle do what is instinct so perfectly and then pull herself back down to the ocean was unlike anything I have ever seen. The few minutes of watching these animals made the hour or so of waiting around worth every second!

Turtle Beach Lodge

We didn't return to the lodge until 12:30 and went to bed fro a quick 4 and a half hours before being woken up by our guide for an early morning canal tour to do some more wildlife spotting. While normally early morning is the best time to see wildlife, as the forest is waking up, we only saw a handful of birds including parrots, macaws, and a toucan. Also we saw some iguanas, a turtle, and a caiman. We returned to the lodge for breakfast, and then set out for our walking tour in the secondary rainforest area near the lodge. On this trip along with frogs, birds, weird looking insects and plants, we struck gold and saw a spider monkey family swinging through the canopy. We followed them as far as we were able, trying to catch by picture the mother and baby in standstill. What a treat it was to see them so close, as we were right under them. After this, we decided to spend the afternoon relaxing by the pool and soaking in the sun we were told was so rare to see in the afternoons here.

Later on in the afternoon, some of the lodge employees got together to play some sand volleyball n the beach, so my husband joined in and I sat and watched a very comical game (nobody really knew how to play, but they all tried very hard) as the suns et over the ocean.

On to Panama!

The next morning we woke early and headed to the local airstrip by boat for our twin prop flight to San Jose to connect with our flight to Bocas del Toro. Although they are puddle jumper planes, the flights were spectacular with great views of the plantations below, rivers, mountains, and rainforests. Upon landing in Bocas town and going through custom and immigration (consisting of one small room with two people behind 2 desks we grabbed a taxi to take us to our hotel, Hotel Bocas del Toro. It is overlooking the water, and had beautiful woodwork throughout the entire building. While the hotel is beautiful, the walls were thin, and we could hear almost everything going on out on the street for a while. After resting a bit in the air-conditioning (Bocas is very hot and humid mid-day) we took a stroll through town, stopping to eat at a restaurant near the hotel with a dock overlooking the water. We strolled down main street perusing some of the shops, stopped at the mini super for a few items and bottled water, and headed back to the hotel for a night of watching TV and lots of sleep.

Bocas del Toro

The next morning we woke bright and early and headed down to Starfish Coffee. I ordered an iced vanilla frappe latter, which was heaven for me, and some breakfast. Next we met our pickup, Jim, from Tranquilo Bay and headed the half hour out to the resort for the next 2 days. Upon entering the dock, one can see that they are surrounded by mangrove and rainforest, in what seems like their own private little bay that they have all to themselves. The water was so still and clear that one could see straight through to the bottom and even spot fish from the dock. We walked up the hill, down a path through a small rainforest patch, and to our cabana with a view of the bay. We spotted on the way lizards, some crabs on the dock, and a number of different birds (again, the names of which I have no idea). Jim even mentioned that from time to time troops of monkeys would swing through or sloths could be spotted sleeping mid-day in the mangrove trees. While the resort isn't set on a beach (one has to take a 15 minute boat ride to get to a beach), the view is gorgeous and the setting makes you feel as though you are at your own private retreat.

We had lunch at the main lodge, met the other owners, and then set off that afternoon to the Zapatilla Cayes for some fun in the sun. We took some kayaks and paddled around one caye, stopping along some reef walls to jump off the yaks and do some snorkeling. The visibility was fairly good that day in spite of the wind, and we saw a large kingfisher, a sting ray, many different multi-colored and neon fish, sea urchins, all different kinds of corals, and one very large lobster hiding out under a ledge. After snorkeling for maybe an hour or so we paddled around and sat on the beautiful white sand beach and chatted while sipping on a cold Coke. In the distance we could see a rainstorm system moving through, while it was sunny where we sat, so odd that only a few miles distance the weather can be so different. We returned after it looked like the storm had passed so we wouldn't get rained on during our return, then we took nice warm showers and met up for a fabulous dinner in the main lodge. We chatted about locations of islands in Panama, where we had just been and where we were planning to go tomorrow before we turned in and fell asleep to the sound of pounding rain on the rooftop.

The next morning we awoke again to the sound of rain outside. This is unusual, as normally October is the best time of year to come for best chances of sunny days. Being a Seattle native however the rain wasn't about to hinder me, and I knew that although it was the ocean, that the water temperature would be around 80 degrees. We met up for breakfast then headed out to Isla Popa and spent the day kayaking along the shore and snorkeling whenever we paddled by reef that seemed interesting. The visibility was not as great as the day prior, however we did still see some sting rays and lots of colorful fish. Jens and Jim tried now and then to catch some fish, but never came up with even a bite. The day was fairly windy, so perhaps this kept them all from coming to the surface. After lunch, we decided to return to Tranquilo Bay's dock where the men headed off along the bay in search of fish (and even saw a large tarpon pass under the boat) while I snorkeled around the coral patches by the dock. After this took showers to get all the salt off our skin and returned to the main lodge for another dinner and relaxing evening.

Boquete

We woke the next day, had breakfast, and headed towards another lodge on the mainland coast called La Escapada where we would meet our driver. On the way, we stopped at Dolphin Bay (along with a number of other boats) where we saw many different dolphins jumping out of the water, and even on jumping backwards onto his back in line. This was not Sea World, and they were not being fed or trained to perform, they just liked to play.

We met our driver and begun the three hour long windy mountain drive to Boquete. The countryside was beautiful, however the ride left us feeling slightly out of sorts, so when we arrived, our plan was just to rest the entire afternoon. We arrived to Isla Verde, which is a beautifully landscaped property with many different small buildings in a residential neighborhood walking distance from the main street in town. We settled in and took a brief nap, watched some TV, then set out to explore the downtown area and find dinner. We found a place called Java Juice that had fantastic burgers and milkshakes for very inexpensive. After this we returned for a night of watching movies and plenty of sleep.

The next morning we spent leisurely, enjoying some breakfast we had purchased previously at the supermarket. Then we met Franklin who had come to pick us up for some horseback riding we had arranged for that day. We drove maybe 20 minutes to a farm set near a hillside. Here we saddled up and set off on a two hour journey up through the mountainside. Since I didn't feel as though I would break my horse (many horses offered to tourists for riding in Latin America are underfed and emaciated) I was able to enjoy not feeling guilty for making the horse work. The views from the top were absolutely stunning, even on an overcast day! Our guide, Franklin's relative, only spoke Spanish, but shared with us about different birds, animals, and plants in the areas, as well as shared about how the area was changing so much wit the huge influx of retirees wanting to buy open land. After our horse ride, we returned to town, wandered around a bit more to eat and get some other essentials and then returned again for a relaxing evening.

Panama City and Canal

The next morning we woke early to catch yet another puddle jumper flights from David to Panama City, where we were met by our guide and driver to head out on our Panama city tour. First we stopped at the Miraflores Locks, and watched a US military ship pass through the locks. We wandered through the museum and looked at how the canal was made, how the locks work, as well as learned about the future expansion plans for the canal. After perusing the exhibits, we continued on to Casco Antiguo, the old colonial section of the city that is in the process of being restored. After seeing some mian sights in this areas, we continued on to La Vieja, the part of Panama that was abandoned and burned when pirates attacked in the 1670s. We walked around to see some of the ruins of the old buildings.

El Valle

After this, we continued by car to drive 2 hours to another mountain town called El Valle. This town is situated inside the crater of an old volcano that erupted 3000 years ago. We checked in to our bed and breakfast just before a rainstorm came. While in this area we went to go visit the local zoo, where we saw many different animals including monkeys, ostriches, ocelots, crocodiles, tapirs, and many birds. After this, we headed to the nearby hot springs for a soak in the thermal bath water. The hot springs themselves didn't consist of much, only about 3 pools of different temperatures. We then wandered through town, had lunch at a local café and perused the handicraft market before walking back in pouring rain to where we were staying. Taxis only cost around $1-2 for the ride in this area, but we decided to be adventurous and get soaking wet!

Barro Colorado Island

The next morning we woke to be driven at 4 in the morning from El Valle to Gamboa to catch a boat for our tour to Barro Colorado Island that day. We met our guide Wendy on the boat, where we learned about the history of the island and the Smithsonian Research Institute stationed there. Once o the island, we had coffee and then went on a hike through the trails in the rainforest to see what lay in wait for us. Along the way, we could see tags on trees or the ground marking different experiments in progress. We also were able to speak with some of the researchers to learn about what they were studying and how they hoped to go about collecting data. During our time on the island we spotted 4 different troops of howler monkeys, some of which crossed in the trees right over our heads, and one troop of Capuchin monkeys. Also, we saw crocodiles, an anteater (which was surprisingly larger than I expected it to be for eating such small creatures), a poison dart frog, agoutis, turtles, and many different birds. After the tour, we boarded the vessel again to return to Gamboa where we rested up for the evening in our room with a beautiful view of the canal below.

San Blas

This morning we had yet another early AM pickup, this time leaving a 4:15 to head to the domestic airport in Panama City for our flight to San Blas, an autonomous Comarca called the Kuna Yala, where the indigenous group, the Kuna People, live. We departed the airport almost 1 hour late, and after one stop on the way, arrived to Achutupo, an airstrip paved out off the mainland coast in the middle of forest. Here, we met our guide who boarded us into a boat to transfer us the 10 minutes to the nearby island where we would be staying. All around, on different islands, you can see houses made of what looks like bamboo and palm leaves for a roof, all bunched together in clusters. We arrived to Dolphin lodge, where we dropped off our luggage in our rustic bungalow with balcony and a hammock overlooking the Caribbean Sea. We were greeted with breakfast and from there set out to first go explore and walk around the community island of Achutupo, which is literally a 2 minute boat ride away from the other island where we were staying. While waiting for the boat to get across, we saw dolphins come swimming through the time strait, jumping out of the water and playing with each other. Our guide told us that this is where the name Dolphin Lodge comes from, in that the Dolphins migrate through here and can be spotted generally from November through April.

On Achutupo we walked around, saw many people including women wearing their traditional clothing with beads on their legs and forearms, a man taking a nap in a dugout canoe, and many children wandering around half or completely naked saying "Hola". This was obviously a greeting they had just learned in school and were anxious to use, as Spanish is their second language here. It has only recently been decided by the Kuna people that learning Spanish as well as Kuna in their schools will now be a requirement. Many women held up molas as we wandered through the village, their handicraft well known throughout all of Panama. After this quick visit we headed in a boat with our guide to a nearby Playa Bonita, a beautiful white sand beach on another island with a hotel where we spent some time snorkeling in the reef and relaxing on the sand shore. The sky was overcast this day, so the snorkeling was not fantastic and my mask kept filling up with water making my eyes sting form the salt. In the afternoon we returned to Dolphin for lunch and then passed up the opportunity to travel to other nearby islands, opting instead to read in a hammock. The meals were always fresh seafood, accompanied with rice and vegetables. Being from Montana where seafood is not the most common menu item (nor the best prepared), this was real treat!

The next morning we woke to the sounds of waves breaking out along the reef. This day we went to another nearby island to go snorkeling. Along the way, we tried trolling for fish, and actually caught a large barracuda like fish. We then snorkeled the reef all around this other island. It was a sunny day and the colors of all the fish and corals were much more brilliant than they had been the previous day. We spent so much time snorkeling that we both suffered very bad sunburns on our backs for it! Again, later that afternoon we opted to relax back on the island and then enjoyed a lobster dinner and some dancing with our hosts in the evening. The next morning we returned to the mainland after a two hour delay, and 3 other stops at various islands in the region. We then checked in to our hotel, Country Inn and Suites Amador, at e lunch, and walked along the causeway in the afternoon. This evening we spent relaxing in our hotel, resting up before our long travel day.